The Altimeter report, 2018-2019 State of Digital Transformation, reveals that business growth remains the primary driver of digital transformation initiatives. But while market pressures like business opportunities (51%) and increased competitive pressure (41%) are high on the agenda of the C-suite, high-profile data breaches and new regulatory standards like GDPR are also providing impetus to transform (38%).
Figure 1: Top priority technology investments in 2019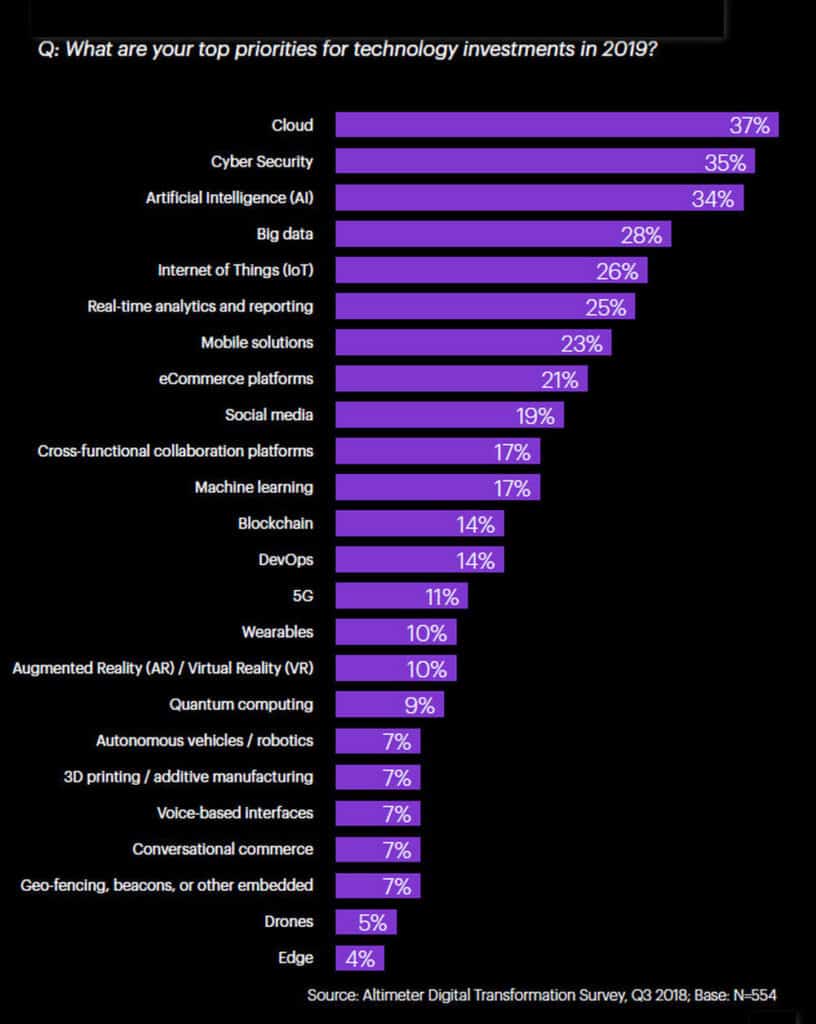 According to Brian Solis, principal analyst, Altimeter – a prophet company, there is growing acknowledgement of the importance of human factors in digital transformation. Still, "most transformation efforts continue to focus on modernizing customer touchpoints (54%) and enabling infrastructure (45%).
It is not difficult to fathom the level of interest around the Internet of Things (IoT), particularly as consumers have embraced mobile technology long before they started reading of IoT – what Solis refers to the enabling infrastructure.
For enterprises, IoT is important in their customer engagement strategy, but it is the Industrial Internet of Things (IIoT) that will enable the business to bring together the ecosystem more cost-effectively and efficiently.
As enterprises learn to understand and master the data (big data) deluge that digital transformation brings to the company, the discovery also has the potential to help it in the one area that keeps leadership awake – security.
As data breaches become a subject of discussion in the executive suite, it is important that enterprises to use the opportunity to glean customer insight but also the state of security readiness/vulnerability of the operation even as they embrace technologies like IoT and IIoT.
Does digital transformation strengthen or weaken an enterprise's security posture?
FutureIoT raised this question to Haiyan Song, senior vice president, Security Markets at Splunk, in recognition of the growing adoption of IoT to engage with customers and IIoT to better improve operational efficiencies and increase the visibility of the supply chain.
"It can be both. It depends on how you approach it. Digital transformation brings a lot more data to the organization. If you take the right strategy and have a very strong data foundation, you can leverage the data to do better detection, and enable faster response," she opined.
She cautioned that not embracing the data chaos that digital transformation brings, can overwhelm the organization, and unnecessarily expose the company to vulnerabilities as a result of the data deluge.
In this exclusive interview, she openly discusses a number of key concerns organisations have with regards to IoT/IIoT. Click on the video below as she covers a number of key concerns senior business and technology leaders with FutureIoT/FutureCIO as roundtables and forums.
Does digital transformation strengthen or weaken a company's security posture?
What is different about transformational security strategy (in contrast to a traditional security strategy)?
What is data chaos and how do we use it to improve our security posture?
In a converged [IoT and IIoT] future, who should be responsible for security?
Altimeter recommends that any transformational initiative go beyond what many executives seem to be obsessed with today – customer experience – and instead encompass the transformation of core operational foundations so enterprises can compete and innovate more efficiently.
Among respondents to the Altimeter study, the long-term transformation strategy (49%) involves the development of an agile IT infrastructure and technologies with increased flexibility, manageability and security.
First published on FutureIoT