The Nanyang Technological University (NTU Singapore) and Delta Electronics have established the S$24 million Delta-NTU Corporate Lab for Advanced Robotics. The announcement builds upon an earlier collaboration between the two organizations back in 2016 to establish the Delta-NTU Corporate Laboratory for Cyber–Physical Systems in Singapore, with Phase 1 concluded in 2021.
Minister of State for the Ministry of Trade & Industry, Alvin Tan, noted that Phase 2, which runs from 1 June 2022 to 31 May 2025, continues from where Phase 1 ends and aims to enhance its Artificial Intelligence (AI) capabilities to create an environment where humans and robots can interface and co-exist.
The lab, supported under Singapore's National Research Foundation's Research Innovation and Enterprise (RIE) 2025 plan, will develop over three years next-generation technologies aimed at overcoming labour shortage challenges for the manufacturing and intralogistics - the logistical flows of goods and materials that take place on a company's site – industries.
Said Delta Electronics chairman, Yancey Hai, the two organisations' shared core values have been essential for the success of Phase I of the Delta-NTU Corporate Lab, which developed 17 patents, including highly valuable intellectual property that will be leveraged for the new Corporate Lab Phase II.
"This includes 3D mapping for automated guided vehicles, human tracking and re-identification with machine learning, and motion planning for materials handling," continued Hai.
Rise of collaborative robots
Collaborative robotic systems are set to become a staple as businesses transit into Industry 5.0, and as the world grapples with a manpower crunch arising from an ageing workforce and declining birth rates.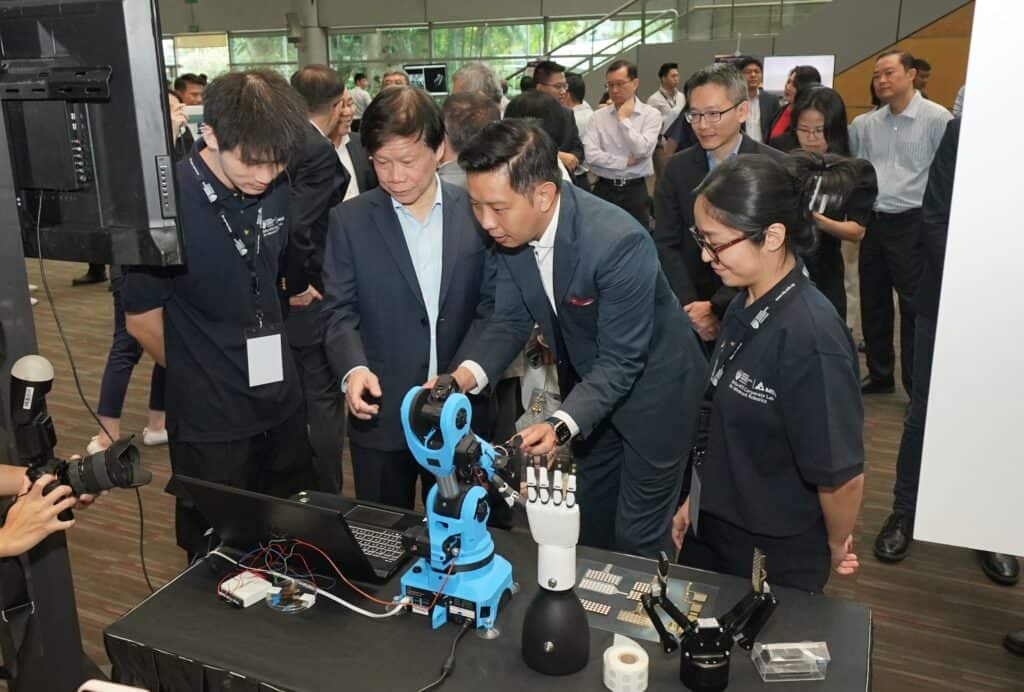 Such systems include human-touch inspired robots that can adjust their grip to pick up a range of materials, from fragile glassware to volatile chemicals, and smart sensing, radar, and 3D sensors systems, which allow autonomous mobile robots (AMRs) to operate in a dynamic environment with human traffic like hospitals and warehouses.