IoT protocol stack features have been specified by 3GPP, an engineering organisation that brings national Standards Development Organisations (SDOs) from around the globe to develop technical specifications for the 3rd generation of mobile, cellular telecommunications, UMTS.
IoT devices have to interact with different network configurations worldwide. It is therefore important to ensure that these features are working well in all sorts of configurations, configured by different network operators.
To address this challenge, digital identity and security provider Gemalto (a Thales company) and Rohde & Schwarz  have teamed up to significantly reducing expensive and time-consuming drive tests of IoT devices.
Rohde & Schwarz (R&S)  is a leading supplier of solutions in the fields of test and measurement, broadcast and media, aerospace (defense) security and networks and cybersecurity. The company is headquartered in Munich, Germany, and has subsidiaries in more than 70 countries, with regional hubs in Asia and America.
With their new collaboration, Gemalto is using test equipment from R&S to ensure that its Cinterion IoT modules operate synchronously across all networks and conditions. This reduces extensive real network drive tests in different countries for manufacturers of IoT (Cat‑M and NB‑IoT) solutions, resulting in faster time-to-mark
Specifically, manufacturers of IoT solutions can use virtual drive tests during the development phase of CAT‑M1 and NB‑IoT modules to find and fix problems at an earlier stage. This also enables seamless cellular coverage and reliable connectivity before the integration process continues and further field tests are performed. Network-specific integration tests and field tests include analysis of unique network configurations in different countries, challenging RF Power level conditions and verification of signalling under compelling RF environments.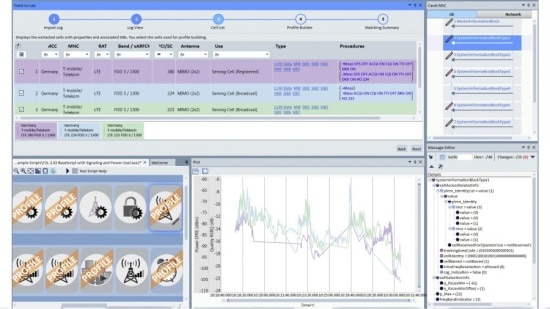 The setup consists of R&S Field‑to‑Lab wireless communication test system, R&S CMWcards smart network emulator, R&S CMW500/CMW290 wideband radio communication tester from Rohde & Schwarz. The successful LTE based R&S Field-to-Lab solution by Rohde & Schwarz has now been extended to support LTE-M and NB-IoT technologies.
With the same user interface, customers can seamlessly move between LTE and IoT testing. The simple process of loading the field logs, extracting the required information from the field log and generating R&S CMWcards test script helps to replicate the real network environment in a lab with just a few mouse clicks.
The R&S Field-to-Lab supports 3GPP IoT features. Unlike other simulated drive test solutions, it is also the first virtual drive test solution for IoT offering replication of signalling and RF conditions in an easy-to-operate GUI on the R&S CMW500 and R&S CMW290 mobile radio testers.
Consequently, this new IoT approach enables for Thales an increasingly efficient and rapid IoT testing procedure.
For Rohde & Schwarz it is an opportunity to make its IoT testing and measurement domain even stronger. Collaboration between Gemalto, a Thales company, and Rohde & Schwarz on the topic of field-to-lab continues actively, enabling both companies to help each other in verification of software builds and releases.