China Mobile Hong Kong's (CMHK) opened its newest flagship store in Central last Friday, its first-ever 5G experience store to the public. The store was built to demonstrate and explain how 5G and other technologies such as Internet of Things (IoT) open new opportunities.
Customers can experience 5G's low latency and high-volume transmission over multiple simultaneous connections, and learn about the importance of applying 5G technology to commercial and innovative technology sectors – all explained in a comprehensive and easy way.
"We look forward to digitalising the lifestyle of the public with our continuous effort in infrastructural development as well as a comprehensive network. We hope to further promote the implementation of 5G and the development of Hong Kong as a smart city connected by technology," said CMHK chairman Li Feng.
He added: "Earlier this year, CMHK was assigned 26GHz and 28 GHz bands. Hong Kong is well poise to reap the benefits of 5G technology. CMHK will actively participate in the government's 5G bands auction starting in October this year."
Integrating 5G, lifestyle and smart-tech into daily lives
Located in the heart of Central's Des Voeux Road, the two-floor flagship store covers a total area of over 2,800 square feet. The store features a 270-degree panoramic ultra-wide screen that showcases the futuristic digital transformations brought by 5G.
The 5G Experience Zone is located on the first floor, exhibiting a wide spectrum of 5G capabilities to customers. These include live demonstrations of 5G's low latency and high-volume transmission over multiple simultaneous connections with showcases such as the "Remote Claw Robot Arm" and "Portable Live Broadcast Backpack".
Customers can also find the Smart Home Zone on the same floor, where they can get their hands on all sorts of new digitalised products and discover how 5G and NB-IoT will work together to make life easier at home.
CMHK has responded positively to the company's "5G+" Project aimed at complementing the existing 4G network with 5G infrastructure. This will help to seamlessly integrate 5G into artificial intelligence (AI), IoT, cloud, big data, edge computing and other information and communications technology.
Boosting Hong Kong's STEM education
Extending this 5G+ ecosystem into the wider society, the vision of "5G+X", will not only result in a higher quality of living, but it will also bring Hong Kong closer to becoming an International Innovation and Technology Hub.
Last month, CMHK ensured that this ecosystem to down the grassroots by joining hands with the city's education community to launch what it claims to be the world's firs 5G STEM Pilot School Initiative.
STEM (Science, Technology, Engineering and Mathematics) education has become a hot topic in Hong Kong in recent years, as the city strives to better equip students to realise their potential in science and technology. The advent of the 5G era, new technology will help transform Hong Kong into a smart city. The importance of enhancing science education and fostering talents in creative technology is crucial to this transformation.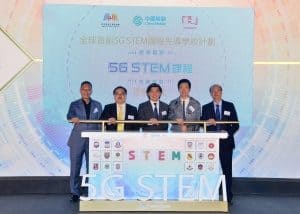 As such, CMHK teamed up with the Modern Education Research Society and the Hong Kong Learning Active Promotion Society to launch the world's first 5G STEM Pilot School Initiative, marking the first step of 5G+ Education.
The initiative received an overwhelming response from the education sector, with more than 200 primary school applications received during the recruitment phase.
Ultimately, 18 schools were selected by a professional judging panel to become the pilot schools where the STEM primary school curriculum incorporating 5G concepts will be tested during the coming school year. China Mobile Hong Kong and its partners will work closely with these schools to optimize the course. The goal is to expand the program to more than 500 primary schools in Hong Kong by September 2020.
"We have been spearheading the development of 5G technology, sparing no effort in promoting the development of Hong Kong as a smart city," said Sean Lee, director and CEO of China Mobile Hong Kong.
"We will continue to foster creative talents in Hong Kong and the Greater Bay Area, and firmly believe that this 5G-focused STEM course will help us enhance the quality of teaching and learning, while opening up new opportunities to students in the field of science and technology, and inspire creativity," he said.
According to Wong Sing, president, Modern Education Research Society, with the advancement of science and technology, teaching materials have evolved beyond the scope of traditional printed books.
"This pilot initiative is a good chance to provide students with better learning experiences and encouragement in learning, by incorporating the new 5G technology into STEM education.", Wong said.
Yam Siu Kei from the Hong Kong Learning Active Promotion Society echoed a similar sentiment: "The 5G STEM Pilot School Initiative will provide a multi-faceted learning experience to students, while allowing schools to deliver the fun of STEM education in a way that is more innovative, faster and more stable."
A six-in-one pilot school initiative
CMHK, the Modern Education Research Society and the Hong Kong Learning Active Promotion Society will provide participating schools with a series of learning packages and activities for 5G STEM courses.
The mobile network operator be responsible for 5G technology and IoT support, and using its synchronous classroom platform to create a "One Platform" for accessing products from the 5G STEM alliance, to provide academic resources and communication capabilities for the education community.
At the same time, Modern Education Research Society will provide a "One Set of Teaching Materials" tailored to 5G technology, while the 5G STEM alliance will provide "One Set of Teaching Aids", and the NB-loT and LTE chips, IoT cards, development boards as well as OneNET platform will be provided by CMHK.
The initiative will create "One Base" at each school to showcase 5G CPE equipment. Finally, China Mobile Hong Kong will continue to hold "One Series of Activities", including cross-border exchange programmes, visits to the 5G flagship showroom and 5G Lab to enhance the school's understanding of 5G development.
The pilot school initiative will be the first phase of the development of the 5G STEM curriculum.
The 18 participating schools will each allocate five to twenty teaching hours in the General Studies and/or Computer classes for the piloting of the first iteration of the 5G STEM curriculum during the 2019-2020 school year.
The schools will provide advice and feedback to the developers about course materials and hardware to optimise the course in a complementary manner. In the second phase, more primary and secondary schools are expected to join the pilot initiative. The goal is to carry out the third phase in September 2020 by promoting the 5G STEM course to more than 500 primary schools across Hong Kong.