Newly opened NEC Mobility Test Center in Gotemba City, Shizuoka in central Japan is a testbed for evaluating automated driving technologies that are designed to take transportation, road safety and traffic management to a smarter future.
The demonstration facility will contribute to the creation of safe, secure, and people-friendly cities through infrastructure-coordinated mobility services and the use of data obtained from sensors installed within a city's infrastructure.
"The NEC Mobility Test Center combines advanced technologies such as NEC's private 5G, video analytics, and AI/IoT with the technologies and know-how of partner organisations to promote technological development and system verification of next-generation mobility services, with the aim of creating new value and solving social issues," said Yuji Onoda, general manager of Cross-Industry Unit, Cross-Industry Business Development Division at NEC Corporation in a statement released over the weekend.
Infrastructure coordination is a system in which vehicles and roadway infrastructure exchange information quickly and accurately through wireless communications in order to prevent accidents, alleviate traffic congestion, provide support for automated driving, and more.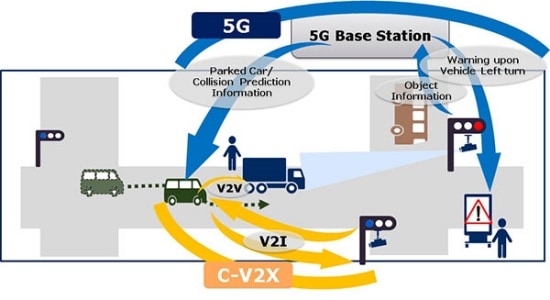 In the next 12 months, the centre is set to conduct as series of tests that combines private 5G with inter-vehicle and roadside-to-vehicle communications. These are
V2V (Vehicle-to-Vehicle): Inter-vehicle communication technology
V2I (Vehicle-to-Infrastructure): Communication between vehicles and infrastructure (roadside-to-vehicle)
C-V2X (Cellular Vehicle-to-Everything): Communication technology that includes communications between vehicles, roads and pedestrians
The centre is designed with a straight course spanning the length of approximately 100 metres, and is fitted with permanent equipment such as traffic lights, 5G base stations, C-V2X roadside units and AI-edge processors to name a few. It also equipped pedestrian and roadside cameras. There are also  vehicles such as buses and passenger cars, as well as important pedestrian equipment, including electric wheelchairs.

The tests that will be conducted at the facility is in line new guidelines given by the Japanese government – the basic specifications of which have been drafted this year – as part of the country's new  IT strategy. This strategy – outlined in the "Declaration to be the World's most Advanced Digital Nation and the Basic Plan for Promotion of Public-Private Data Utilization" – include the guidelines for new road traffic infrastructure linked with 5G communications standards and traffic lights.
How tests at the centre work
Private 5G is used to acquire and analyse overhead images of intersections with cameras installed on roadside objects. This function notifies vehicles equipped with 5G stations of pedestrian crossings, collision prediction information, and speeding vehicle information. Dangerous vehicles and people in locations that are often blind spots will also be digitised to provide safe and secure driving assistance and conduct experiments that lead to automatic driving.
Among the experiments lined up at the centre include:
Traffic Management Experiment - Recognise and analyse passing vehicles and pedestrians from camera images. Along with real-time detection of traffic volume, the source of traffic jam information, the license plate numbers of passing vehicles are also identified at the same time. NEC will also conduct experiments for assisting with traffic management and urban development, such as identifying the number of inflowing vehicles from outside a region and recognising changes in the volume of vehicles and pedestrians in an area depending on the time of day.
Road Infrastructure Management Experiment - Acquire and analyse images of road surface conditions with roadside cameras that identify fallen objects, such as trees, and other incidents in real-time. The system will provide valuable alerts to vehicles equipped with 5G stations that an incident has occurred in their vicinity. In the future, NEC will conduct experiments to make use of this technology for road maintenance and understanding of conditions following accidents and disasters.