NEC Corporation seeks to double the efficiency of autonomous mobile robots (AMRs) being deployed in warehouses across Japan by developing a new "risk-sensitive stochastic control technology" that enable them to automatically adjust their speed as they move around the facility.
The company plans to put this technology into practical use by March 2024 and to have it installed in NEC's cooperative AMRs in the island nation.
Tackling the challenge of automation
In recent years, the labour shortage have pushed large warehouses in the country to use robots for transporting materials within their facilities. However, these AMRs are then configured to travel with reduced speed to ensure safety, which makes transport efficiency a challenge.
Warehouse operators have to build passageways and areas dedicated for AMRs to speed up their movement. Thus, introducing these mobile robots in existing facilities has been difficult.
With its new "risk-sensitive stochastic control technology", NEC hopes to efficiently control AMRs without compromising safety demands.
"This has been accomplished by using models that can express uncertain factors that vary from one site to another, such as sensor measurement errors and differences between simulation results and actual robot movements. Moreover, this new technology has adopted methods that have been used in actuarial finance," said NEC in a press statement.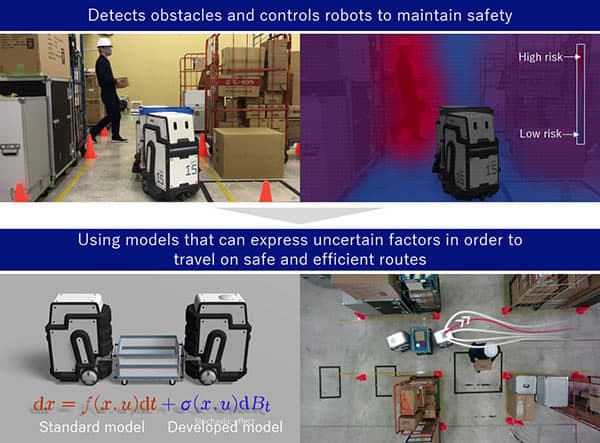 As a result, robots can autonomously determine when to travel at high speed, and over the shortest distances, such as when traveling in low risk locations without workers, objects on the floor or other obstacles. Similarly, robots will travel at a low speed when using routes that are determined to be high risk locations.
"When comparing transport work between a robot applying this technology and a conventional robot, it was confirmed that the work time was halved, and the transfer efficiency could be doubled while ensuring safety. In addition, safety and efficiency can be achieved without dedicated robot areas, making it easy to install in existing warehouses," NEC said
Meanwhile, NEC hopes to develop other technologies through on-site demonstration experiments, aiming for their early installation in AMRs for a wide range of industries.