The excitement around generative AI (GenAI) in manufacturing comes from building out potential use cases, scaling from creating new designs to ultimately overhauling entire production processes.
ABI Research says manufacturers can tie investments in GenAI to additional revenues with a significant spike of US$4.4 billion from 2026 to 2029. By 2033, revenue added from the use of generative AI in manufacturing will reach US$10.5 billion.
"Generative AI has growth that will derive from functionality and use cases across market verticals. The deployment of generative AI will come in three waves as the technology matures, with manufacturing seeing the largest revenue growth during the second and third waves," explains James Iversen, manufacturing and industrial industry analyst at ABI Research.
He further posits that during the second and third waves of adoption, generative AI will be deployed into four domains of manufacturing: design, engineering, production, and operations.
Design will see the fastest mainstream deployment with use cases such as generative design and MBOM (manufacturing bill of materials) and EBOM (electrical bill of materials) reductions already having existing solution offerings from companies such as Siemens and Microsoft.
Engineering, production, and operations use cases will take longer and require further maturity from GenAI providers due to the complexity of the tasks and required model training.
Use cases for generative AI in manufacturing can be compared by looking at expected TTV (time to value) and ROI (return on investment). For the four domains, the top performers are:
Design: Generative design, part consolidation
Engineering: Tool path optimisation, part nesting
Production: Product quality root cause analysis, correction of bugged software code
Operations: Inventory stock and purchasing period management, employee work path optimisation
Both manufacturers and manufacturing software providers should prioritise top-performing use cases as they yield the highest returns and can be easily built out with existing GenAI capabilities.
Iversen opines that starting from the ground up, implementing these use cases will lay the groundwork for more extensive use cases.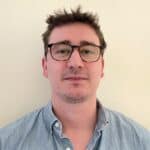 "It is important not to jump the gun and develop high-functioning use cases that will see little implementation as trust in generative AI will need to be built up before overhauling significant portions of current manufacturing operations." James Iversen

James Iversen