IoT Analytics defines the Internet of Things (IoT) as sensors and actuators embedded in physical objects that are linked through wired and wireless networks. McKinsey extended this definition to include the use of the same Internet Protocol (IP) that connects the Internet.
Whichever way IoT is used – whether for automation and analysis or automation and control – an important element for IoT to work is for the various applications to be connected to the Internet.
Figure 1: Six distinct applications of IoT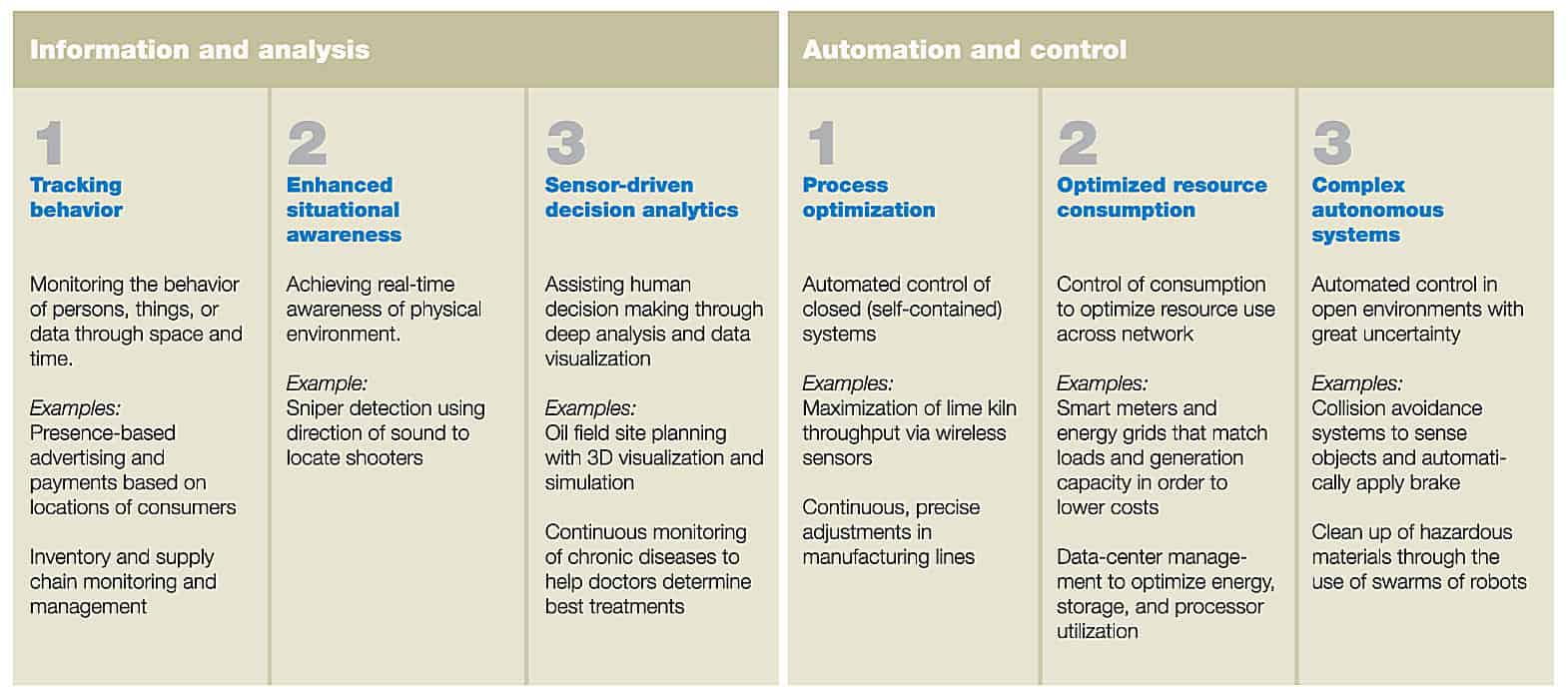 Source: McKinsey 2019
5G – not the universal connectivity solution for IoT
With countries launching 5G services from 2020, it has the potential to become the much-awaited universal solution for IoT connectivity. FutureIoT spoke to Eric Hui, director of IoT business development at Equinix Asia-Pacific. He noted that 5G, on its own, may not necessarily bring about the zero-latency experienced users might be clamouring for.
The key to getting information out of IoT devices and recording the vast amounts of IoT Big Data still depends on the servers collect the data from the IoT device, analyse it and give it back to the user.
He uses the analogy of going to McDonald's to order a burger. "You can go to a McDonald's counter very fast, but it will not necessarily mean that you will get your burger faster. Latency relies on strong infrastructure and a strong platform to support it.
IoT applications in the cloud
Gartner says infrastructure-as-a-service (IaaS) is the fastest-growing segment of the public cloud market with 27.6% growth. It is expected to reach $39.5 billion by the end of 2019, up from $31 billion in 2018. However, even as banks, retailers and manufacturers extend their infrastructure to the cloud, the platform is primarily used as an interface for the movement of data between servers and applications and users.
Hui says much of the analytics being done in the cloud is lightweight stuff, including dashboarding or data reporting.
"Data has a lifecycle. The faster you are able to access it and perform real-time analytics on the data, the more value you are able to extract from the data," he suggested.
Challenges deploying IoT
McKinsey estimates that by 2025, IoT will have a potential total economic impact of US$11.1 trillion per year, surpassing mobile internet and automation of knowledge work.
Figure 2: Economic impact of disruptive technologies by 2025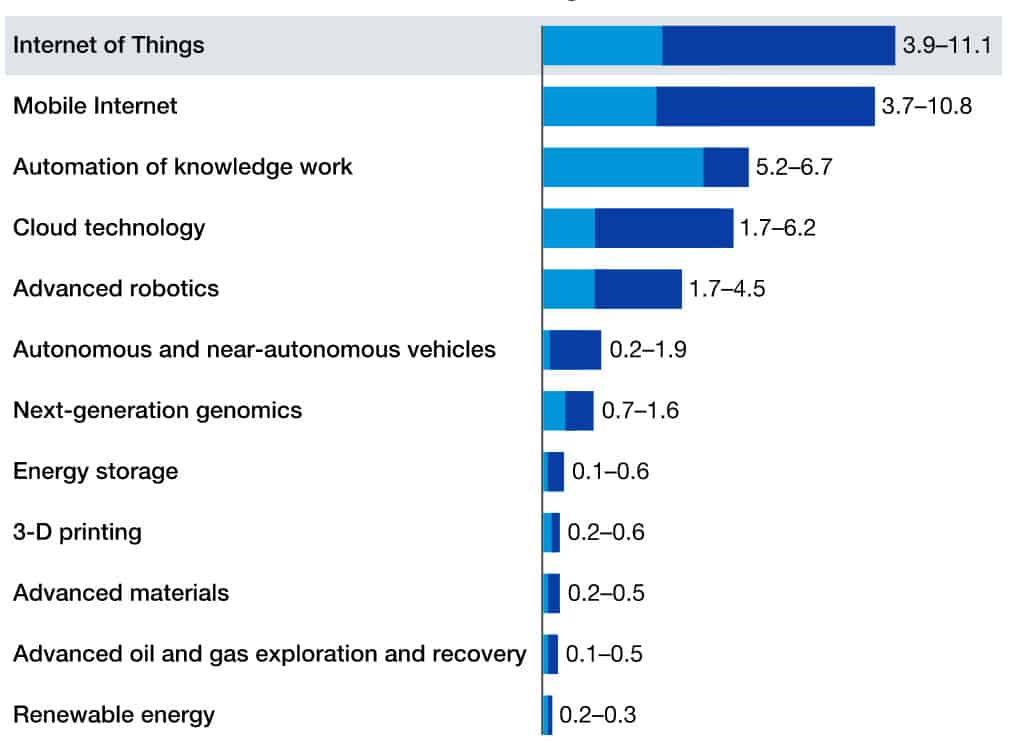 Source: McKinsey Global Institute Analysis
For Hui, a key challenge lies not in whether data can be safely moved to the cloud, but more so to translate it back to business values.
"Most of the information captured from IoT today is useful information. But the real value will come when they are able to exchange the data with other sets of information to what is referred to as interpolated analytics," said Hui.
IoT will create streams of data that need to be filtered, mashed up, compared, contrasted, interpolated and extrapolated. Only then can this new data be used to make the data-driven decision making.
Evolving IoT
IDC predicts that IoT will generate 79.4 Zettabytes of data in 2025, growing at a compound annual growth rate of 28.7% over the 2018-2025 forecast period.
In the connected future, data is the common denominator. "It is captured, processed, and used from the nearest and farthest edges of the network to create value for industries, governments, and individuals' lives," said Carrie MacGillivray, group vice president, IoT, 5G and Mobility at IDC. "Understanding the amount of data created from the myriad of connected devices allows organizations and vendors to build solutions that can scale in this accelerating data-driven IoT market."
When asked to describe the future of IoT, Hui said it would be intelligence. "We need to get to the intelligence part in order to really find the value of IoT. So with AI, it is not only the sensor information that picks up, it's the history and the correlated data that comes in and we try to basically learn new behaviour and predict new things will happen," he concluded.