The LoRa Alliance, the global association of companies backing the open LoRaWAN protocol for the Internet of Things (IoT) low-power wide-area networks (LPWANs), now has the support of 100 network operators globally.
The milestone, achieved at the end of December 2018, means wider availability of LoRaWAN networks, which makes it easier to deploy IoT solutions with existing infrastructure.
The number of end-devices connected to LoRaWAN networks is also reported to have tripled since the beginning of the year, according to the alliance.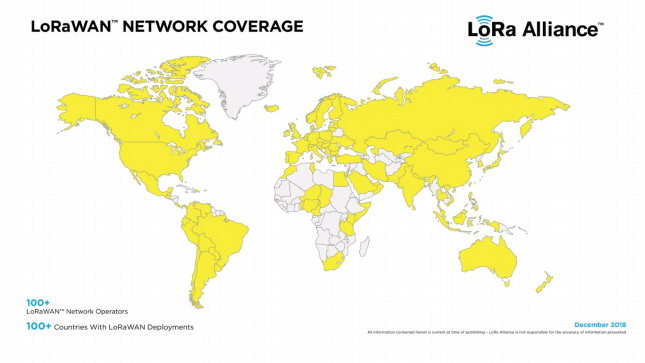 Donna Moore, CEO and Chairwoman of the LoRa Alliance, said features like firmware updates over the air and the fact that LoRaWAN is an open specification with a robust certification program ensure network and device interoperability.
"These benefits give confidence to the market that companies are future-proofed and can deploy solutions today with assurance they will work in the future," she said.
LoRaWAN networks have been actively deployed globally throughout the year, with the Asia-Pacific and European regions showing the most growth, at 30 percent and 50 percent, respectively. Regional specifications continue to be established in all key regions.
Orange, for one, has selected LoRaWAN for its first network dedicated to the IoT in 2016 to address sensors and other affordable objects consuming little energy.
Ronan Le Bras, Head of Technical Strategy — Wireless Networks at Orange, said the Orange LoRaWAN network now covers over 30,000 municipalities and 95 percent of the population of Metropolitan France.
"In 2018, Orange Slovakia launched a service using LoRaWAN for Smart Cities use cases. And to support its international customers and French companies with needs outside of France, Orange Business Services launched on-premise LoRaWAN connectivity suitable for a range of applications especially in smart cities and industry, including energy and fluid management, on-site tracking, geo-fencing, waste control, environmental metering, lighting and parking monitoring," he said.
In India, LoRaWAN has seen tremendous interest and growth  in the past year, according Ali Hosseini, Founder & CEO, SenRa.
"In that market alone we already provide network coverage in 30 cities to support IoT applications such as smart metering, smart parking, and smart waste management solutions and see no signs of this slowing as we enter 2019," he said.
Julian Dömer, Head of IoT, Swisscom, said that In Switzerland, the Swisscom LoRaWAN network covers 96.6 Percent of the Swiss population. The mobile operator was among the first operators to roll out LoRaWAN nationwide in 2016.
Founded in 2015, the LoRa Alliance, which has more than 500 members worldwide, helps members closely collaborate and share expertise to develop and promote the LoRaWAN protocol as the leading open global standard for secure, carrier-grade IoT LPWAN connectivity.
In November 2018, it has formed a task force to promote LoRaWAN protocol in Japan.