The Kowloon Motor Bus (KMB) yesterday started operating 16 new single-deck electric buses on Route 6 which runs between Lai Chi Kok and Star Ferry. The buses travel along busy corridors such as Nathan Road.
Equipped with free 5G Wi-Fi internet connection, the new electric buses also have onboard a Battery Management System ("BMS") and the Water Cooling System, which help monitor the efficiency and condition of the battery and control its temperature, effectively extending the battery life cycle and improving performance.
The new model is 4% lighter than its predecessor, with the passenger capacity increased by 16% to 81 people. It only takes 1 hour and 40 minutes to get fully charged, which is 2 hours faster than before, with 200 kilometres of driving range.
"Hong Kong has the world's toughest operating environment for buses, which the new electric double-deckers will meet the demanding requirements. We will continue to work with bus manufacturers worldwide to introduce more clean energy buses suitable to the city, promoting green transport and contributing to carbon neutrality in the city," said Gary Leung, assistant director for strategic planning at KMB.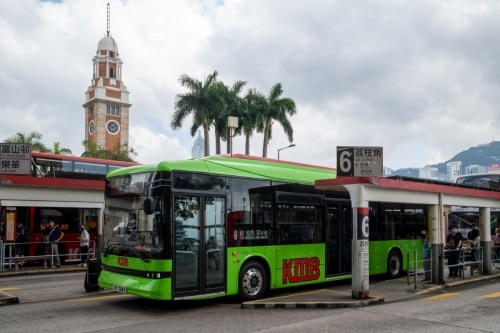 Over 50 electric double-deckers purchased
KMB also purchased 52 double-deck electric buses from China's BYD and the United Kingdom's Alexander Dennis Limited ("ADL"), which are planned to be delivered by next year.
The two models are 12 metres long with an estimated passenger capacity of 120 people. It will take only 2.5 hours to fully charge for the buses, providing some 300km driving range.
These new electric double-deckers that are going to serve Hong Kong citizens will also be equipped with the BMS and Water Cooling System. The BYD double-deckers will be using its newly designed, Blade Battery which helps significantly increase the battery's efficiency.
The ultra-thin solar panels are also installed on the bus roof of these newly purchased electric double-deckers to supply electricity for onboard facilities, further utilising renewable energy on a zero-emission electric bus.
The new double-deckers will have enlarged legroom and a widened gangway, with two wheelchair parking spaces. Seat belts are also equipped on each seat, and safety features include the GreenRoad system, Electronic Stability Programme and Driving Monitoring System. These features allow passengers to enjoy a green, comfortable and safe bus journey.
With various new development areas soon to be established, such as the former quarry at Anderson Road, Kwun Tong, KMB is also interested in operating the new routes in the vicinity with the latest model of double-deck electric buses.
"We believe that it can provide a greener and more pleasant environment for the residents through zero-emission technology other than catering for their travel needs," Leung said.
By next year, the bus operator will count over 80 electric buses in its fleet, comprising of the new batches of electric fleet and its current 30 electric single-deckers.
A roadmap towards new energy buses
KMB has already laid down a clear timeline for upgrading its whole fleet to new energy buses by 2050, with plans to purchase 500 more electric buses in 2025.
To support its green fleet, the company is actively installing charging facilities in existing depots.
"We are also planning to build two multi-storey bus depots in Tuen Mun and Tai Po for the new energy buses, with completion expected in four to five years, with 850 parking spaces provided," said Leung.