Restaurant chain operator Yum China Holdings has launched its first green KFC outlets in Beijing and Hangzhou as part of its commitment towards building net-zero restaurants by 2050.
Guided by Yum China's 4R (Reduce, Reuse, Recycle and Replace) principles, KFC in China has already integrated energy saving, emissions reduction, plastic reduction, and other environmentally friendly measures across its store nationwide.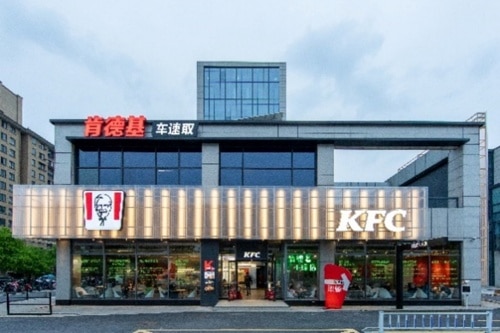 Taking its ESG pledge a step further, the new Green Pioneer Stores deploy advanced low-carbon technologies in their construction and daily operations. Compared with the average greenhouse gas emissions of KFC stores in 2020, Green Pioneer Stores are expected to further reduce these emissions by approximately 15% per year.
"We are committed to driving meaningful change and pioneering in the restaurant industry towards net-zero emissions. Building Green Pioneer Stores is an important part of our journey," said Joey Wat, CEO of Yum China.
Yum China is the exclusive operator of KFC in China. The company also runs other international restaurant brands including Pizza Hut, Taco Bell along with its own brands such as Little Sheep, Huang Ji Huang, East Dawning and COFFii & JOY. Yum China has 12,163 restaurants in over 1,600 cities at the end of February 2022.
Wat added: "We will continue to explore the use of innovative technologies in restaurant construction and operations to promote sustainable development as well as contribute to the low carbon economy."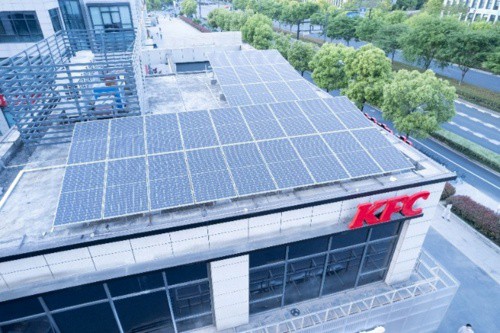 The new KFC Green Pioneer Stores have the following features:
Renewable Energy / Solar Power: At KFC's Green Pioneer Store in Hangzhou, solar panels are installed on the roof of the store, generating about 10,000 kWh of solar power every year, reducing carbon emissions from electricity consumption. An advanced Power Storage System is integrated to further improve energy efficiency.
IoT Based Intelligent Energy Management: An Internet of Things (IoT) based intelligent restaurant energy management system improves the energy efficiency of Green Pioneer Stores, utilizing technologies such as IoT, big data and artificial intelligence (AI) to effectively reduce energy consumption by about 10% per year.
Natural Lighting: Green Pioneer Stores are equipped with a Tubular Daylighting System to fully use natural lighting. This allows customers to enjoy natural light while reducing electricity consumption.
Solar Energy Powered Outdoor Umbrellas: Solar energy powered outdoor umbrellas are provided for outdoor seating. Using integrated solar panels, the umbrellas generate electricity for night-time lighting.
New Environmentally Friendly Materials: Recycled materials, such as ceramic floor tiles manufactured in the process of energy recycling, low-carbon bamboo materials, and leather alternative made from recycled KFC coffee grounds, are applied in the construction and furniture of Green Pioneer Stores. All these recycling initiatives help reduce GHG emissions in the construction and operation of the stores.
Since 2017, 100% of newly-built KFC restaurants in China comply with Yum China's Green Building Standards, fully considering environmental factors such as environmentally friendly materials, energy saving facilities, indoor air quality and thermal comfort control systems. Energy efficient and low-carbon operations for restaurants have been placed on top of the agenda to reduce GHG emissions.
Yum China has been continuously upgrading equipment and facilities with advanced technologies such as the value-added technology application (VTA) system and IoT to promote the digitisation, automation and intelligence at its stores. To reduce GHG emissions in its logistics and warehousing, Yum China developed the Transportation Management System (TMS) to optimise its national distribution network and route planning, vehicle loading rates and delivery mileage. In addition, Yum China is finding ways to support and cooperate with its supply chain partners to measure, reduce and report on their GHG emissions.