Japan's Smart Eye Camera  (SEC) developed by three local ophthalmologists has been placed in the valued supplier list of the International Agency of the Prevention of Blindness (IAPB), a global organisation that leads international efforts in blindness prevention activities.
The SEC is a smartphone attachment that serves the function of a conventional slit-lamp microscope and able to record the ophthalmological images and videos to help make a diagnosis online. SEC makes it possible diagnose diseases in the eyelids, conjunctiva, cornea, anterior chamber, iris, cystal lens and anterior vitreus due to its portable slit-lamp. The device is comparable to that of professional grade slit-lamp microscope.
The SEC passed one of the world's toughest regulations to get approval as a medical device in Japan. The SEC is manufactured and distributed by OUI Inc.  And now, it has become the first Japanese-made medical device recognised by the IAPB.
The IAPB Standard List / Valued Supplier List is a platform managed by IAPB to source and compare eye health products and technologies for eye care professionals to identify and purchase high-quality eye care equipment at the right price. The List provides only products carefully evaluated by IAPB.
Pilot test in rural Malawi
In December last year, OUI Inc. sent a mission to  Africa for the first time to undertake the pilot test of the SEC in public eye clinics for rural residents in Malawi.
About  85% of the population in the country lives in remote, rural communities that are far from the country's few eye health centres. Also, it is estimated that about 36,000 people in Malawi are suffering from blindness, with half caused by cataracts.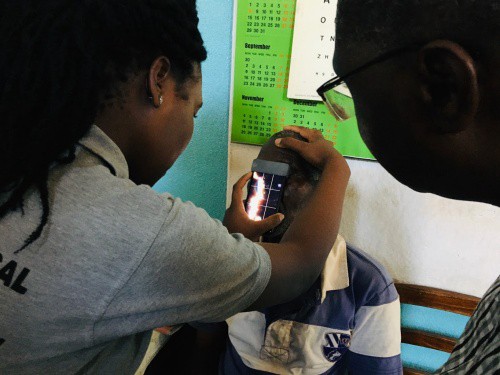 "With the great cooperation of our local partner, Blantyre Institute for Community Outreach (BICO), which have dedicated themselves for the prevention and control of the blindness of the rural residents with severe difficulty in access to the eye health services, we visited two clinics located in Zomba and Chikwawa, where the local doctors/medical staffs diagnosed more than 50 patients through SEC," said Shintaro Nakayama, vice president for global business at OUI Inc.
The OUI mission team received positive feedback from the pilot test, with field doctors enumerating three potential use cases for the SEC medical device:
Eye camp for cataract surgeries
SEC possibly could achieve tremendous efficiency in outreach to identify the potential patients for eye camp for cataract surgeries. Also, it could achieve higher efficiency in diagnosis for post-surgeries of eye-camp for cataract surgeries.
Diagnosis in rural eye clinics with frequent blackout
In the rural clinics they suffer from frequent blackout of electricity where the existing slit-lamp microscope cannot be used. (Not many rural clinics have installed generator.) Even under such condition, doctors can keep on undertaking diagnosis through slit-lamp through SEC.
Training for young/less-experienced doctors/medical staffs
Making it possible to share the same vision together, SEC could work well for training scenes for young/less-experienced ophthalmologists/paramedics.
"We are very happy and excited to be able to confirm the strong potential of SEC for improving the operational efficiency and quality of the medical services for rural residents suffering from serious eye disease," Nakayama said. "Bringing back with lots of insights and feedback, we go forward to make a difference on the medical services in rural areas in developing countries through our products."