Iridium Communications, a global provider of mobile voice and data satellite communications network, yesterday launched its own GMDSS-approved service, ending  the more than 20-year monopoly of Inmarsat, in delivering satellite services for safety communications of maritime vessels while at sea.
GMDSS, also known as Global Maritime Distress and Safety Systems, is an automated ship to shore system using satellites and digital selective calling technology, which replaced the previous ship to ship safety system, which relied on a manual Morse code system.
An internationally recognised distress and radio communication safety system, GMDSS is mandated for ships by the International Maritime Organization (IMO) Safety of Life at Sea Convention (SOLAS), 1974, as amended in 1988, and carries the force of an international treaty.
GMDSS provides life-saving assistance to seafarers in distress and has required equipment on board more than 60,000 ships today, with many ships carrying multiple terminals.
A historic milestone
Iridium started GMDSS operation last Friday after a seven-year journey to becoming a GMDSS provider, and a year after receiving a Letter of Compliance from IMSO in December 2019 that the company is authorised to begin the service when ready.
Built on the company's upgraded US$3 billion satellite network,  Iridium's GMDSS service uses the company's L-band satellite spectrum. This spectrum serves as a weather-resilient complement to other satellite broadband capabilities on ships, aircraft and vehicles and is also a requirement for GMDSS terminals on SOLAS-class vessels.
With over 1.4 million subscribers around the world, including communications systems on tens of thousands of ships and aircraft today, Iridium said its GMDSS service launch epitomises its commitment to creating a safer environment for the approximately 85% of the world that lacks any or reliable cell phone coverage.
"This is a historic moment in both the satellite and maritime industries," said Matt Desch, CEO of Iridium.  "It is not every day that you get to announce the launch of a service that will most certainly save lives and is bringing innovation to this important maritime service."
Iridium's service functions much like an international SOS button. However, unlike other options, the company claims it includes as standard real-time emergency voice calling service, distress alert (SOS button) and maritime safety information with Iridium's global coverage.
The company's upgraded satellite network – completed last year – is made up of a constellation of 66 cross-linked satellites in Low-Earth Orbit, which provides reliable coverage, even in adverse weather, around the entire globe, including over the Arctic and Antarctic waters.
Once a vessel holds down the red 'distress' button, indicating that it needs assistance, a signal is immediately routed through the Iridium satellite network and delivered in moments to a designated Rescue Coordination Center (RCC).  Unique to the Iridium system, this is then followed automatically by a distress phone call, allowing the vessel to immediately speak with the RCC. The RCC then can quickly understand the nature of the emergency, while also alerting nearby vessels and local search and rescue authorities to provide the required immediate assistance.
Passing evaluations with flying colours
Captain Moin Ahmed, Director General of IMSO, regulator of the GMDSS system, provided some additional context regarding the qualification process for Iridium.
"Overall, our formal evaluation of Iridium took more than four years, and at each step Iridium successfully demonstrated that its Safety Voice, Distress Alert and Iridium SafetyCast maritime environment broadcasts not only met all IMO requirements, but in many cases, exceeded them. I am proud to be a part of this event and this historic moment," he said.
Captain Brian Soberg Petersen, master mariner and senior marine specialist for MAERSK also shared his experience as part of the testing process.
"At Maersk, we have been very satisfied with the capabilities of the Iridium system and are presently analysing our future communications plans, where we believe Iridium GMDSS could serve an additional function as a backup data connection as well, in lieu of our existing system," he said.
Speaking from the Rescue Coordination Center perspective, Dave Wilson said the new system is the type of technological advancement that will enhance GMDSS.
"Our team at the Rescue Coordination Center of New Zealand, and the crew of the New Zealand research vessel that has been assisting with the testing, have been very impressed with the Iridium GMDSS system," said Wilson, who is a watch leader and senior search and rescue officer for RCC New Zealand
A new pinnacle for GMDSS
Iridium said the technological capabilities of the GMDSS have now reached a new pinnacle with voice, data, and maritime safety information (MSI) all available through one affordable terminal.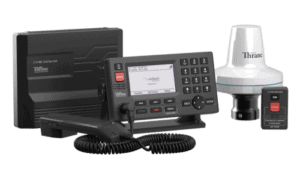 The first terminal available is the Lars Thrane LT-3100S, which combines the three key GMDSS services – distress alert, distress voice and MSI. It can be used for both primary and emergency ship communications.  The combination of all three services in one cost-effective terminal is a first for the industry and one that makes the GMDSS even more accessible to smaller vessels that may not otherwise be able to afford the equipment.
"When we started this process, there was no process. No company had ever tried to do what we have now achieved.  In partnership with the IMO, U.S. Coast Guard and IMSO, a system to allow for Iridium to provide GMDSS service had to be invented," Desch recalled.
"Developing and qualifying a GMDSS system was extremely challenging, so we didn't want to just do the minimum or what has been done before.  We wanted to make our system more accessible, affordable and feature-rich," he added.