Traditional data centres are not equipped to handle the requirements of companies who increasingly find that they need to connect to IoT devices, where volumes of data are being generated.
With this major technology shift, companies need to put the physical computing resources at the edge of the network where IoT endpoints are located because the inherent latency of the cloud is no longer enough when it comes to deploying machine intelligence and getting real-time results.
Industry insiders believe that edge computing is needed for IoT deployments to work effectively, with International Data Corporation (IDC) predicting that 45% of all data created by IoT devices will be stored, processed, analysed and acted upon close to or at the edge of a network by 2020.
Indeed, according to the research firm's 2020 predictions,  more than 50% of new enterprise infrastructure deployed will be at the edge rather than corporate data centres by 2023, up from less than 10% today. And by 2024, the number of apps at the edge will go up by 800%.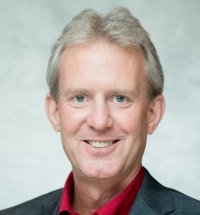 Speaking with FutureIoT, Dave Russel, vice president of enterprise strategy at Veeam, said that in five years, a typical organisation could see "80% on-prem, 19% public cloud, and 1% edge to a mix that could look like 30-35% on-prem, 35-40% public cloud, and 25-30% edge".
Regardless of specific percentages, he added, it is clear that in just a few years more half or more of enterprise-generated data will be created and processed outside of the data centre or cloud.
Putting security at the edge of the network
Russell pointed out that the increasingly disaggregated nature of IoT, and all of the intelligent edge, exacerbates many data management challenges.
"This is not too dissimilar from small remote offices with low-to-no IT skill.  The ability to directly manage data and infrastructure will give way to remote management, which simultaneously will bring a new range of security, privacy, and data availability challenges," he said.
With the shift towards edge computing, companies are well-advised to the security of the data – especially from a data leakage perspective.
"There is a class of IoT that has a very short half-life associated with it, but even much of that data should never make it in to the clear and be viewable," Russell said. "Much like with big data, there are some cases with the many components that make up IoT data need to be preserved, and other cases where it is just the result of an operation that is of interest."
He stressed that organizations should strive to understand what the retention requirements are for their various classed of IoT data, which then can lead to an impact assessment of how highly available that data must be.
This raises an issue of data gravity, and especially of networking, to be able to copy or move that data.
"Combining other corporate initiatives, such as digital transformation (DX), which is also about customer intimacy, and the desire to apply intelligence and analytics against many workloads, likely means that IoT and intelligent edge data in general will increasingly fall under the purview of corporate IT," Russell said.
He added: "This means that the time to begin planning for this is sooner, rather than later, and is another example of on-prem operations management and infrastructure teams needing to become more business-oriented in their practices."