The market for Internet of Things (IoT) unexpectedly accelerated in Q1/Q2 2018 lifting the total number of IoT devices in use to 7 billion. Beneficiaries of this spurt include IoT software, cloud and services companies, all exceeding revenue expectations.
Microsoft Azure and Amazon AWS grew 93% and 49% respectively (within the last 12 months) with their IoT portion contributing significantly to the growth. But smaller players like C3IoT also reported a 60% revenue increase for the year.
According to IoT Analytics' latest "State of the IoT & Short-term outlook" revealed that the number of connected devices that are in use worldwide now exceeds 17 billion, with the number of IoT devices at 7 billion (that number does not include smartphones, tablets, laptops or fixed line phones).
Figure 1: Number of connected devices worldwide 2015 - 2025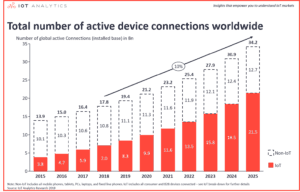 Source: IoT Analytics 2018
The global connection growth is mainly driven by IoT devices – both on the consumer side (e.g., Smart Home) as well as on the enterprise/B2B side (e.g., connected machinery). Active IoT devices are expected to grow to 10 billion by 2020 and 22 billion by 2025. This includes all active connections and does not take into consideration devices that were bought in the past but are not used anymore.
Figure 2: Global number of IoT devices worldwide 2015 - 2025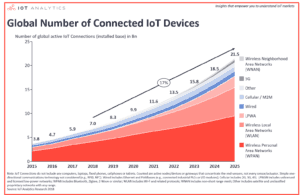 Source: IoT Analytics 2018
Wireless Personal Networks (WPAN):
The highest number of IoT devices are connected through short-range technology (WPAN) that typically does not exceed 100m in maximum range. These include Bluetooth-connected devices such as headsets but also Zigbee and Z-wave connected devices that can mostly be found in smart homes e.g., for connecting smoke alarms or thermostats.
Wireless Local Area Networks (WLAN)
Another large category is Wireless Local Area Networks that cover connectivity of up to 1 kilometer. Wi-Fi is the most common standard in this category and seeing great growth, mostly through the use of home assistants, smart TVs, and smart speakers but also increasingly through use in industrial settings such as factories (although it continues to play a minor role in those settings compared to other technologies).
Low-power Wide Area Networks (LPWAN)
A large chunk of the future growth is expected to come from low-power wide area networks. By 2025, more than 2 billion devices will be connected through LPWAN, which promises extremely high battery life and a maximum communication range of over 20 kilometers is used by three main competing standards, Sigfox, Lora, and NB-IoT, which are currently being rolled-out worldwide with more than  25 million devices already connected now, the majority of which are smart meters.
Wired
Few people think of wired connections when they think of IoT. However, in many settings a wired device connection is still the cheapest and most reliable options. Particularly in industrial settings, fieldbuses and ethernet technologies use wired connections to a large extent and are expected to remain doing so in the next years.
Cellular / M2M
2G, 3G, and 4G technology had for a long time been the only option for remote device connectivity. As LPWA and also 5G gain momentum, it is expected that these legacy cellular standards will lose share to the new technologies as they present a more lucrative opportunity to many end-users.
5G
5G is the wildcard. Still under development in 2018, the technology which promises a new era of connectivity through its massive bandwidth and extremely low latency, is now heavily promoted by governments, particularly China. The Chinese government views 5G adoption as a competitive asset in the quest to move the equilibrium of technological innovation from the US and Europe towards China.
In the US, the first pre-standard 5G networks will provide Fixed Wireless Access (FWA) services to residential and small-business users by the end of this year. While many more use cases will be targeted once the final standard is ratified in 2020, we should see first adopters already next year and do expect quick growth from there.
Wireless Neighbourhood Area Networks (WNAN)
Wireless Neighbourhood Area Networks (WNAN) sit in between WLAN and long-range technologies such as cellular in terms of communication range. Typical proponents of this technology include mesh networks such as Wi-Sun, or JupiterMesh. In some cases the technology is used as an alternative for LPWA/Cellular (e.g., in Utilities Field Area Networks) and in other cases as a complimentary element (e.g., for metering deep in-door where nothing else reaches).