The growth of IoT is helping the growth of the big data services market, according to the latest analysis by global market research firm Technavio.
"Adoption of IoT has increased the need for necessary tools to process the large volume of data and generate actionable insights. Big data analytics help to analyse and also improve data collection of industrial equipment such as turbines and oil refineries. These analytics also help organisations make better business decisions and create new business models, products, and service offerings," the company said in a media statement.
It predicts the global big data services market is expected to grow by USD$64.27 billion between 2020 and 2024, accelerating at a CAGR of over 30% during the time period.
Technavio traced the growth trajectory of the market in its newly-released report entitled "Big Data Services Market by End user and Geography Forecast and Analysis 2020-2024", which provides a detailed analysis of the prevalent market forces, trends, and drivers along with competitive benchmarking.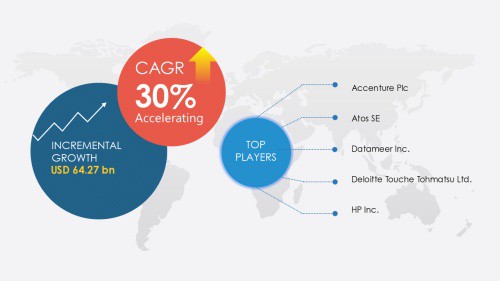 According to Technavio, companies are currently outsourcing their big data analytic projects, which is leading to the growth of the big data services market.
"The implementation of big data technologies with IT systems helps gain information and new insights from unstructured and structured data from numerous sources such as databases, streams, APIs, file systems and other platforms and applications," the company noted.
It added: "These services also help organisations to gain insights and assist in the understanding of huge volume of complex data, which reduces the time taken for research. Industries such as healthcare, manufacturing, media and entertainment, oil and gas, retail and transportation are increasingly adopting big data services."
The research firm pointed out the market is fragmented due to the presence of several players. The growth of the players depends on several factors such as market conditions, government support, and industry development.
It identified some of the major market participants, which include Accenture, Atos SE, Datameer, Deloitte Touche Tohmatsu, HP, IBM, Microsoft, PricewaterhouseCooper and Teradata.
"To survive and succeed in such an intensely competitive market, players must distinguish their product and service offerings through clear and unique value propositions," the company said. "To make the most of the opportunities, market vendors should focus more on the growth prospects in the fast-growing segments, while maintaining their position in the slow-growing segments"