Huawei has redefined traditional campus networks to align them to the requirements of smart city developments. With the Asia Pacific launch of its Smart Campus Solution last week in Singapore, the company unveiled a smart campus with a secure, open, and sustainable digital platform, which easily integrates new ICT technologies such as cloud computing, Internet of Things (IoT), artificial intelligence (AI), and mobile interconnection.
"We have completed 500 smart campus projects around the world, helping our customers achieve business success," said Bob Chen, vice president of Huawei Enterprise Business Group. "We look forward to continuing to work with our customers, to deal with challenges as we build a smart world together.
Huawei hopes to get a lion's share of the smart campus market in the Asia Pacific, which is currently estimated to exceed US$10 billion in value based on analyst figures.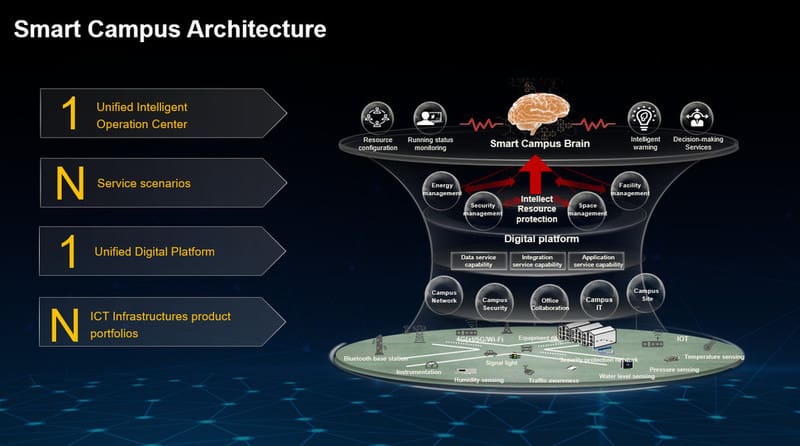 The difference between Huawei's smart campus and a traditional one lies in the upper-layer brain, which includes the Intelligent Operation Centre (IOC) platform. The IOC platform delivers intelligent asset management of the campus  with digital twin visualisation of the physical space.
Implemented through wired networks, Wi-Fi, 5G, microwave, and IoT technologies, it is built with energy-saving features where IoT used to connect various terminals and sensors to collect energy consumption information. AI algorithms are used for analysis and optimisation, reducing energy consumption and OPEX of campus networks and achieving green and sustainable development.
"With the digital platform integrated with video cloud, IoT, Internet Communications Protocol (ICP), Geographic Information System (GIS) and other new technologies, customers could leverage on the platform to design, develop and verify solutions to create a secure, comfortable, efficient and green campus," said Tony Shi, CTO of Huawei APAC Scenario-Based Solution, adding that major use cases for the smart campus include ubiquitous connectivity, integrated management and new service development.
Huawei's smart campus solution also implements intelligent video prevention and control and AI analysis. It also features office collaboration – where the smart office and smart classrooms implement seamless collaboration, greatly improving remote communication and efficiency during the epidemic, and bringing users new experience in office, learning, and diagnosis and treatment.
Positive feedback
Several Huawei customer at the launch of the smart campus solution expressed optimism about the new offering.
"As ICT advances, system construction gets more and more complex, with campuses getting bigger and bigger. It is therefore becoming harder to manage them and there is an urgent need for us to understand them better and manage them smarter. The launch of this Smart Campus Solution is timely, providing many of our members with the solution that they've been looking for," said Tony Khoo, president of the Singapore International Facility Management Association (SIFMA).
Kittikun Potivanakul, the CTO of DTGO, said Huawei's smart campus helps enterprises integrate digital services, with its customer-oriented approach replacing a functional one.
"With the deployment of smart services — such as an IOC perimeter management, video-based patrol, and device management — the solution deploys big data analytics to support decision-making at the management level. Similarly, it supports business innovation and will, in the future, facilitate multi-campus access."