Innovation and automobile tyres – two things you would not necessarily find in the same sentence. So, when Bridgestone participated at the 2020 Consumer Electronics Show, most likely it raised a few eyebrows.
At the show, the spokesperson commented that in the future Bridgestone does not want to be a tyre company but a solutions company. He acknowledged that Bridgestone is proactive and more digital solutions, focusing on extending the mobility of vehicles, increasing the efficiency of a fleet, as well as vehicle safety by making tyres smarter.
Asia is home to 60% of the world's population. With or without the effects of COVID-19, there is a need for effective mobility.
COVID-19 may have stalled Asia's economies, but as China has shown, governments and industries will find a way to kickstart economies – the world moves on.
Bridgestone Corporation is a Japanese multinational auto and truck parts manufacturer founded in 1931 by Shojiro Ishibashi in the city of Kurume, Fukuoka, Japan.
FutureIoT spoke to Yoshikazu Shida, chief executive officer & chief operations officer, Bridgestone Asia Pacific, on the direction the automotive industry is taking as it positions itself to come of the current pandemic-crisis and return to normalcy.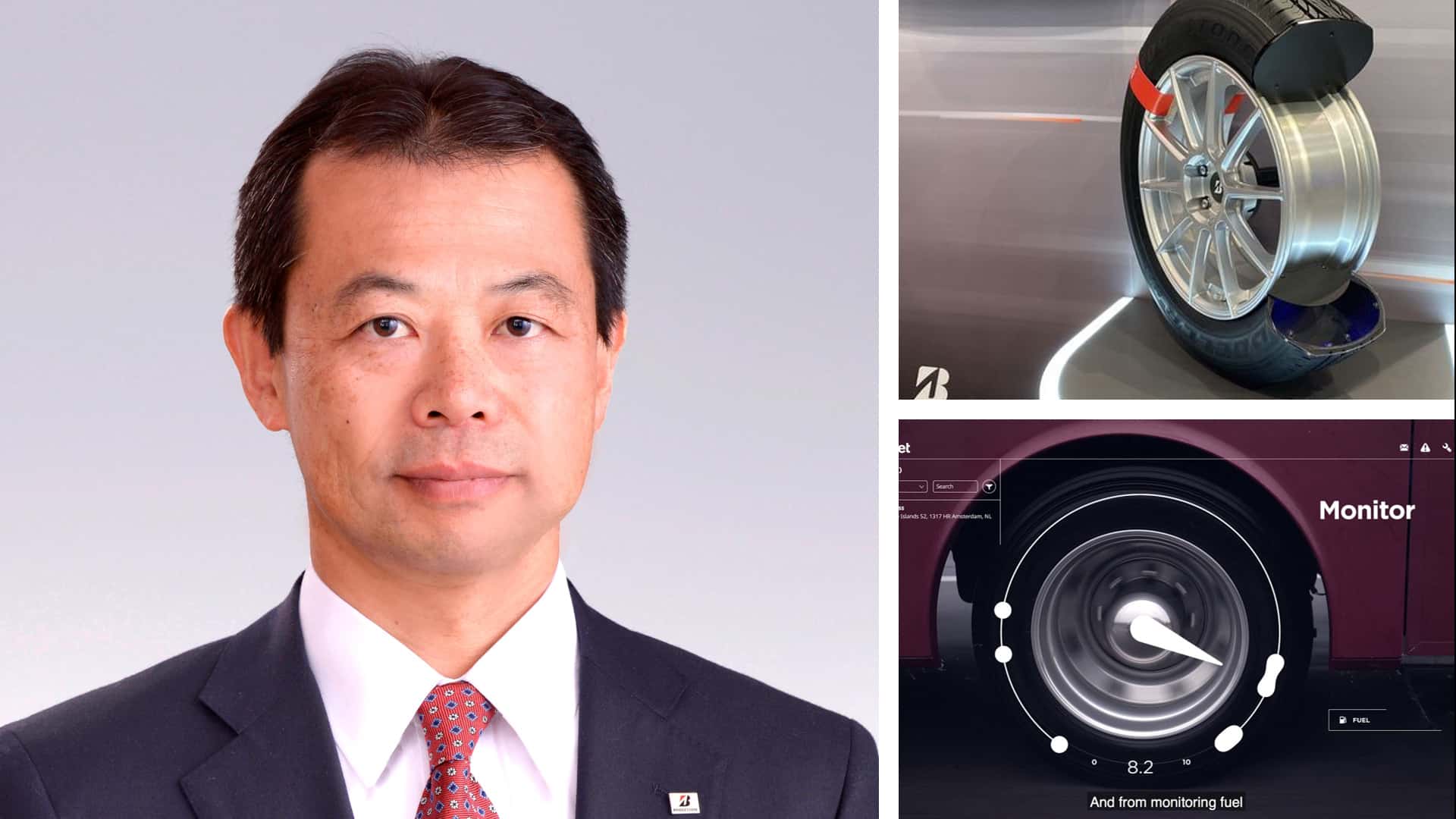 Briefly describe the current scenario of the APAC automotive tyre market.
Yoshikazu Shida: The region's automotive tyre industry is currently defined by three overarching trends - changing consumer preferences and habits, incorporation of technology solutions such as Internet of Things (IoT) and AI, as well as the unprecedented impact of COVID-19.
Asia-Pacific has experienced rapid economic growth and urbanization leading to shifting consumer needs and preferences. With the burgeoning middle class, we are seeing higher rates of vehicle ownership across the region.
Consumers are also largely demanding more environmentally friendly products as climate change becomes a key focus, and this has translated into the automotive industry as well. Governments in Southeast Asia are pushing for EV initiatives now more than ever as a more energy-efficient and cost-effective transportation mode.
Increased usage of IoT and AI technologies has also brought about the evolution of Connected, Autonomous, Shared, and Electric (CASE) vehicles to Asia-Pacific. Autonomous cars are expected to grow to 24 million units in the region by 2024.
This movement towards autonomous operations has a significant impact on the tyre industry, as the tyres manufactured for these vehicles will need to be equipped with enhanced performance, technologies such as sensors, smart diagnostics and advanced safety systems.
At a global level, CASE has been a key priority for the Bridgestone Group, and we have continuously been developing new innovations and offerings to meet consumer's evolving needs in this area.
Finally, the COVID-19 pandemic has also taken its toll on the Asia Pacific economy, impacting local businesses and households. There are also the implications on the supply chain, manufacturing and business operations, should a second or third wave of infections take control.
As such, we expect the decreased output and shrinking spending power to have some impact on the automotive sector as well. However, despite these impending concerns, we're hopeful that countries such as Singapore, Taiwan and China have had some success in containing the virus. China's auto market also recently took the lead in the global recovery, with positive month-on-month growth for four consecutive months since bottoming in March.
Can you describe what digital transformation is to Bridgestone?
Yoshikazu Shida: As the automotive industry is evolving towards CASE and Mobility as a Service (MaaS), Bridgestone is accelerating its digital transformation journey through the use of innovative technologies and a Group-wide value chain.
Our recent Mid-Long Term Business strategy signalled the start of a new chapter, positioning 2020 as "Third Foundation" or "Bridgestone 3.0", which marks the ongoing transformation and evolution of our offering beyond tyres and diversified products to include advanced mobility and solutions.
Bridgestone 3.0 has been guided by the principle that there can be "no value creation without digital transformation (DX)". We are transforming our business operations to focus on solutions and integrating innovative technologies to meet the needs and expectations of the next generation of drivers.
As part of this, we continue to develop our solutions business through our unique platform of Bridgestone Tire and Diversified Products as a Solution (Bridgestone T&DPaaS). The strategy is a combination of products and services such as Bridgestone's Global Service Network and digital technologies. Most recently, we have also launched a new tagline "Solutions for your journey" to signal the company's evolution towards being a global leader in Sustainable Mobility and Advanced Solutions.
An example of Bridgestone's foray into digital solutions is our first-of-its-kind type of tyre sensor, called the Smart Strain Sensor. The Smart Strain Sensor technology incorporates the Internet of Things (IoT) technologies to help measure the strain that occurs when a tyre makes contact with the road while in motion.
The Smart Strain Sensor can record data even at low speeds, which makes it an important differentiator for autonomous vehicles which are expected to operate at lower speeds for enhanced passenger and pedestrian safety.
We're leveraging our solutions business to improve resource productivity by combining the real and digital worlds to deliver integrated products, services and service networks that utilize tyre and mobility data.
To weather the storm and navigate the road to recovery, the industry needs to adopt a long-term strategic view and adapt to the new normal. That can mean assessing the role of digital tools in maintaining customer engagement in the wake of social distancing or investing in innovative mobility solutions to drive resilience and maintain business continuity in a disrupted industry.
What existing technologies have been crucial to executing this digital transformation?
Yoshikazu Shida: Bridgestone's passion for innovation drives us to continually push the boundaries of what is possible and develop real and digital solutions to co-create new value and solve the problems of today, and tomorrow.
We have focused on leveraging data-based solutions that make fleet operations more effective and efficient. For example, driven by our acquisition of TomTom Telematics last year, IoT has created a tremendous business opportunity for Bridgestone's fleet sector customers.
Renamed Webfleet Solutions, the acquisition will support Bridgestone in gaining valuable vehicle and tyre operating insights from an 860,000-vehicle strong user base communicating with 200 million data points.
These insights will support our fleet sector customers by helping them maximise fleet performance and minimize costs, all while ensuring sustainable and efficient mobility through digital intelligence drawn from tyre and mobility data. This can help contribute to increased vehicle uptime and extended tyre lifespan.
As a Bridgestone CEO for China and Asia-Pacific, what remains your biggest challenge in the region you oversee?
Yoshikazu Shida: The China and Asia-Pacific region has always been an important and key growth-market for the Bridgestone Group.
In this region, we supply our products across more than 20 countries. Bridgestone's globalization begun in the Asia Pacific region, specifically in Singapore when the first overseas plant was established in 1965.
The Bridgestone brand has since grown from strength to strength, and today we are a leader in terms of market share and brand awareness in most of the countries in Asia-Pacific. The region is home to two of our leading R&D centres, which produce ground-breaking tyre solutions for our customers.
We currently employ over 20,000 employees across 35 offices to facilitate this large and growing market. While we continue to invest in the region, the biggest challenge we face is effectively managing its diversity.
China and the Asia Pacific is a heterogeneous region, with each market presenting different levels of economic and infrastructural development, regulatory frameworks and customers with varying needs.
It is critical that our teams on the ground demonstrate a deep and nuanced understanding of our customers across different cultures and business operations. Beginning with our first overseas plant in Singapore in 1965, we have cultivated strong relationships and have intimate knowledge of our customers' business.
This enables us to support their growth ambitions, anticipate their needs and understand their challenges.
How has COVID-19 impacted your supply chain and distribution business in 2020?
Yoshikazu Shida: The impact of COVID-19 on our supply chain has been significant across all aspects of the value chain. First and foremost, because safety is our top-most priority, we took necessary precautionary measures to ensure the health and safety of all our employees.
Through rigorous management procedures and the collective efforts of our teammates - from manufacturing through to logistics and retail – we were able to adapt to the circumstances and manage the situation effectively.
One of the challenges that we faced was ensuring the continuity of supply and making sure we had sufficient inventory (or alternative sources) in case certain suppliers would be forced to stop their operations as a result of COVID-19.
Considering the drop in demand was rather sudden, we had to adjust supplies and lock in orders for raw materials a few months in advance than we typically would. Besides rescheduling deliveries, we also employed creative practices to store the increase in direct material inventory across our existing warehouse, minimizing and optimizing cost expenditure in the process.
Another obstacle that we had to face was a few instances of temporary port closures, where we incurred additional demurrage and detention charges as we could not always turn round our containers fast enough.
However, due to our strong existing relationships with the ocean freight carriers and visibility of our supply chain, we were able to make necessary decisions to balance supply and demand and minimize the financial impact.
We quickly learnt that agility in times of crisis is key to our success. Thus, we increased the frequency of our Integrated Business Planning (IBP) process and incorporated flexibility in plans. For instance, we took advantage of the reduced demand and brought-forward plant maintenances by a few months, ensuring that we would be ready when volume returned to normal.
That said, we were already primed to manage such crises as a result of our regional manufacturing and supply strategy, which was implemented many years ago. With this know-how, we were able to continue to operate efficiently and did not lose a single order due to COVID-19 related supply issues.
What do you see are evolving opportunities for Bridgestone? What are the emerging technologies Bridgestone is looking to deploy to capture these opportunities?
Yoshikazu Shida: As a global leader in the tyre industry, Bridgestone is ahead of the curve in developing products and solutions that cater to the ongoing transformation of the automotive industry.
Electric Vehicles (EV) adoption is expected to contribute 58% – over half – of new passenger car sales post-pandemic and amount to 31% of the global car fleet by 2040 according to research from Bloomberg's NEF.
That will translate into a shift in tyres, which will need to be structurally reinforced to cope with this additional load caused by battery packs in EVweb
while maintaining low rolling resistance to maximize fuel efficiency.
With the rise of EV-driven tyre demand and the increasing requirement for companies to integrate sustainability across all aspects of their operation, there are many evolving opportunities for Bridgestone as a sustainable solutions company.
For example, we collaborated with our long-term partner Volkswagen to bring ground-breaking lightweight tyre technology to their new all-electric ID.3 vehicle.
The environmentally friendly ENLITEN Technology enables tyres to have a super low rolling resistance to help conserve battery power. Battery power is also conserved by the fact that tyres with ENLITEN Technology are lighter, requiring up to 2kg less raw materials to be created.
These factors deliver significant environmental benefits – perfect for a vehicle created with sustainability in front of mind.
We also see significant opportunity to develop advanced solutions in the mining sector to meet our customer needs and deliver social value.
Our revolutionary MasterCore off-the-road (OTR) tyres are engineered for ultra-high durability with a performance that can be customized to various mine sites and operations.
In June 2020, we also acquired iTrack – a provider of tyre management solutions for the off-the-road vehicle market. iTrack's tyre pressure monitoring system captures accurate, real-time tyre data and live vehicle location-tracking information. The acquisition strengthens our complete solutions portfolio for mining customers around the world. As a global solutions provider, we are focused on creating new value for our customers by delivering tyre and mobility-related data that enhance their operations.
As the tyre market continues to evolve, the industry must adapt to disruption and changing consumer behaviour – or run the risk of being left behind. We are always looking for ways to implement cutting-edge technologies to promote innovation through business model development and across the value chain.