Hong Kong food manufacturer CK One will set smart production line at its central kitchen, which is expected to be operational in the second half of 2022.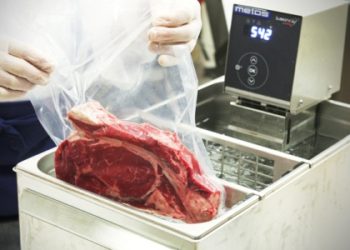 CK One, which stands for Central Kitchen One,  is the first food production factory in the city to hole an ISO 22000 certification for food safety management standards. It specialises in sous vide, a culinary technique in which vacuum-sealed food is immersed in a water bath and cooked at a very precise, consistent temperature. This prevents overcooking and locks in all the natural flavours.
CK One runs a fully equipped commercial kitchen available for rental. It rounds its offerings with a purchasing service to help clients source, purchase and store almost all ingredients. It also has a cold chain logistics service that provides professional cold storage and delivery services on behalf of its clients.
"When we consider expanding our business, we want to seek for smarter production methods to enhance our competitiveness and meet the latest trends of the industry," said Arist Wong, founder of CK One. "Therefore, we made a prompt decision when our business was slightly affected during the epidemic to upgrade our factory and deploy smart production line."
CK One's smart production line project is the first to be approved under Hong Kong's Reindustrialisation Funding Scheme launched  last year, which grants subsidies to manufacturers setting up smart production lines. Under the scheme, CK One is eligible to receive a subsidy of up to one-third of the total project cost.
Collaboration with HKPC
The Hong Kong Productivity Council (HKPC) is supporting CK One in its bid to adopt advanced digital technologies in food production. Both companies recently signed a collaboration agreement for the design and development of a smart production line.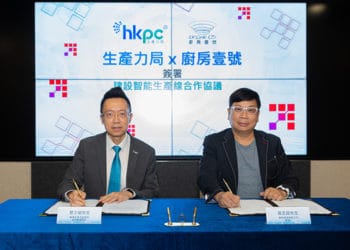 Specifically, HKPC offers "one-stop" support for the whole process from feasibility studies, factory layout and production line design, equipment installation and system integration, testing and fine-tuning, to matching government funding and training tech talents.
"HKPC has a wealth of expertise and experience in intelligent manufacturing. They proposed to us an array of comprehensive and cost-effective smart solutions, and introduced government funding that meets our needs to realise the project," Wong said.
HKPC conducted an in-depth evaluation of the company's business for designing the best-fit option for its smart production line: a U-shape layout to address concern on land constraint, and an optimised equipment and production arrangement to speed up the entire process by minimising the chance of duplicated transfer of materials.
Technical highlights will include real-time data visualisation for monitoring the production to ensure safety and traceability of food products. Also, this real-time monitoring extends  preventive maintenance - with alerts being triggered when abnormal conditions are detected, so corrective measures are to avoid unexpected shutdowns.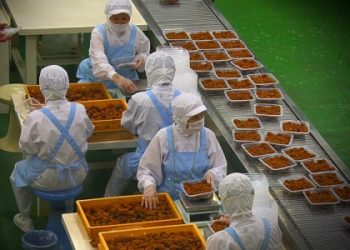 "The comprehensive real-time monitoring system can ensure product quality, which is beneficial to both the brand image of local food manufacturers and overall standard of food safety in Hong Kong. This is how I expect intelligent manufacturing to vitalise the local food industry and bolster market confidence in 'Made in Hong Kong' food products," said Edmond Lai, chief digital officer, HKPC.
Furthermore, a digital order management system will be put in place to optimise production scheduling and delivery arrangements; and reduce waste caused by redundant production. All these contribute to a better control of the average daily output of the manufacturer.
"We expect the smart production line to save plant space, reduce manpower, increase output and reduce overall costs, as well as ensure the end products comply with international food safety standards. These will very much benefit the sustainable development of our company in the long run," Wong said.
Lai said: " We hope more local traditional industries will develop intelligent manufacturing with the adoption of advanced technologies so as to create a sustainable business environment in this smart era, which will play a key role in enhancing Hong Kong's competitiveness and economic diversification."