The Hong Kong government vowed to steadfastly encourage the local maritime industry to use of clean energy, while driving the development of smart port initiatives for operational efficiency.
"While we seek to expand our maritime industry, we have not forgotten our commitment to sustainable development," said Hong Kong Chief Executive Carrie Lam. "We have already announced the target for Hong Kong to achieve carbon neutrality before 2050. As part of our decarbonisation effort, we encourage industry players to adopt more sustainable shipping initiatives. As you all know, Hong Kong was the first city in Asia to mandate a fuel switching requirement for ocean-going vessels."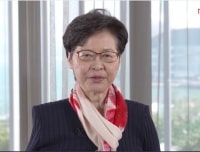 In her speech at the 11th edition of the Asian Logistics, Maritime & Aviation Conference (ALMAC) held in Hong Kong last week, Lam also reiterated the need to use innovative technologies, even as the city continues to enhance maritime services – including  ship finance, marine insurance, maritime legal and arbitration services, ship agency and management and shipbroking – through the provision of economic incentives such as tax concessions and manpower training.
With over 150 years of maritime heritage and robust international connectivity, Hong Kong has one of the top 10 container ports in the world, as well as a transhipment hub in the region. There are some 280 weekly container vessel sailings, connecting to over 600 destinations worldwide.
At the same ALMAC event, Frank Chan, Hong Kong's secretary for transport and housing, echoed the importance adapting innovative technologies to sustain the city's leading position as a global logistics, maritime and aviation hub.
"The future of modern logistics is going to be smart and technology-driven. Automation, AI, big data and digitalisation are instrumental," said Chan, adding that to help achieve this strategic goal, the Hong Kong government has up a HK$300 million funding scheme to encourage logistics service providers in applying technological solutions to enhance productivity.
COVID-19 and hitting the reset button
Panellists at the "New trade order and evolving intermodal networks in the Asia-Pacific" conference session noted that current pandemic has amplified seismic shifts in the supply chain where it is becoming more regional than global, a trend particularly noticeable in the Asia Pacific.
Kelvin Leung, CEO of DHL Global Forwarding Asia Pacific, said that a lot of issues, such as port congestion and traffic congestion, were happening even before the pandemic. Even before COVID-19, many industries and companies had been rethinking how to position their supply chain, sourcing models, manufacturing models, and so forth, focusing on enhancing the transparency of their supply chain and the resilience of the supply chain model.
"Digitalisation is going to change the way we operate going forward, and ESG is becoming more important because our industry creates a lot of emissions, and we have to address that," said Leung.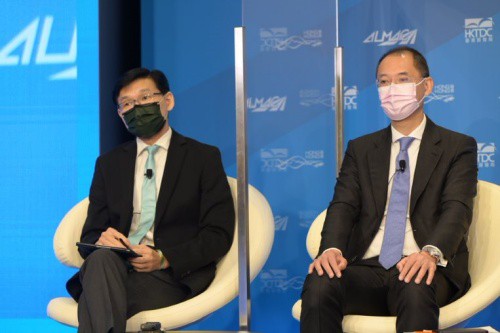 Raymond Fung, director of trades at Orient Overseas Container Line, said businesses have needed to increase dialogue with each and every customer and have also had to cater for certain SMEs they previously wouldn't have dealt with over the past couple of years. As service providers, he said shipping lines must live with what the customer wants and adjust accordingly.
"For example, we have been using big-bulk vessels, as long as they are seaworthy, to run short-distance trips for certain customers," he said. With the growth of e-commerce and the use of artificial intelligence by some carriers and customers, he hoped it would be easier to forecast demand, with shipping lines able to come up with different sizes of vessels and different routings to better cater for customers' requirements.
According to Joseph Phi, group CEO Li & Fung, supply chain has seized to be "invisible" to shippers, but now stands front and centre.
"We have surging demand, rising transportation costs, manufacturing delays, port congestion, labour shortages, trade disputes, trade policies, inflation, and so on, so the whole supply chain is facing the perfect storm," he said at the conference's
"The more progressive companies are doing things to create value in their supply chains. The overarching theme they have adopted is they have hit the reset button, concluding that the pandemic is a perfect occasion to reset their strategies and refresh the way they execute their strategies, so they are trying their very best to make their supply chains more resilient and agile," Phi added.
The future of smart air cargo
Meanwhile, the same supply chain disruptions are plaguing air cargo segment of the logistics industry amid the pandemic, even while air cargo volume has been significantly up and expected to comprise nearly a third of the airline operating revenues.
To get transparency across their operations, industry players have been deploying technologies to find their way across their supply chain years before the pandemic hit.
According to Victor Mok, chairman and CEO - Asset Service Platform at GLP China, Chinese logistics providers have implemented digital solutions five to 10 years ago to enhance the digital transparency and safety of cargo movements.
Cross-border e-commerce has greatly accelerated progress in this area, he said.
"Digitalisation is a big word, but it doesn't mean just moving things like processes from paper to online platforms. That is only the first small step," Mok added. "The key is how you optimise the processes, using technology and data to improve the processes and therefore efficiency and transparency, to make better decisions than in the past."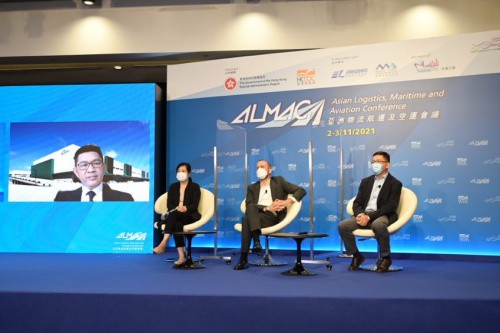 Mark Slade, managing director of DHL Global Forwarding Hong Kong & Macau noted that up to 60% of supply chain disruptions come not from direct suppliers, but further upstream from second- and third-tier suppliers.
"We at DHL use an analytical tool to allow companies to get deeper into the supply chain and identify risks with suppliers that are actually two or three layers removed from their operations," said Slade.
The annual ALMAC is jointly organised by the Government of the Hong Kong Special Administrative Region and the Hong Kong Trade Development Council. It is a is a flagship event of Hong Kong Maritime Week. This year's conference had more than 11,200 viewers from some 60 countries and regions. They included participants from Hong Kong, Mainland China, newcomers from Mexico, Nigeria, Romania and more, highlighting how the event offered networking opportunities spanning the globe.
A newly added physical and virtual exhibition showcased different logistics technologies, including 5G technology for warehouse management, smart logistics solutions, international payment solutions and the latest smart port developments, connecting participants with the best business solutions