Gartner observes that smart mobile robot adoption in supply chains is growing rapidly and predicts these will far outpace drones over the next three years.
In its report, Hype Cycle for Mobile Robots and Drones, 2023, Gartner experts said that many organisations already deploying mobile robots will expand their fleet in the next three years. It's likely companies will have hundreds, if not thousands, of mobile robots in use, while drones will be deployed in more targeted ways, such as for inspection at a location or delivery of critical goods like medicines to remote areas.
"By 2027, over 75% of companies will have adopted some form of cyber-physical automation within their warehouse operations," said Dwight Klappich, vice president and fellow in Gartner's Supply Chain Practice. "Labour shortages and challenges retaining talent, coupled with technology advances such as machine learning and AI, will continue to drive adoption of smart robots."
The 2023 Hype Cycle includes several technologies that have been rated "transformational," including machine learning (see Figure 1), which is expected to hit mainstream adoption within the next five years. Additionally, many technologies with "high" impact will also mature within the next few years, creating an accelerated market for increasingly capable smart, autonomous and mobile robots and drones.
Figure 1: Gartner Hype Cycle for Mobile Robots and Drones, 2023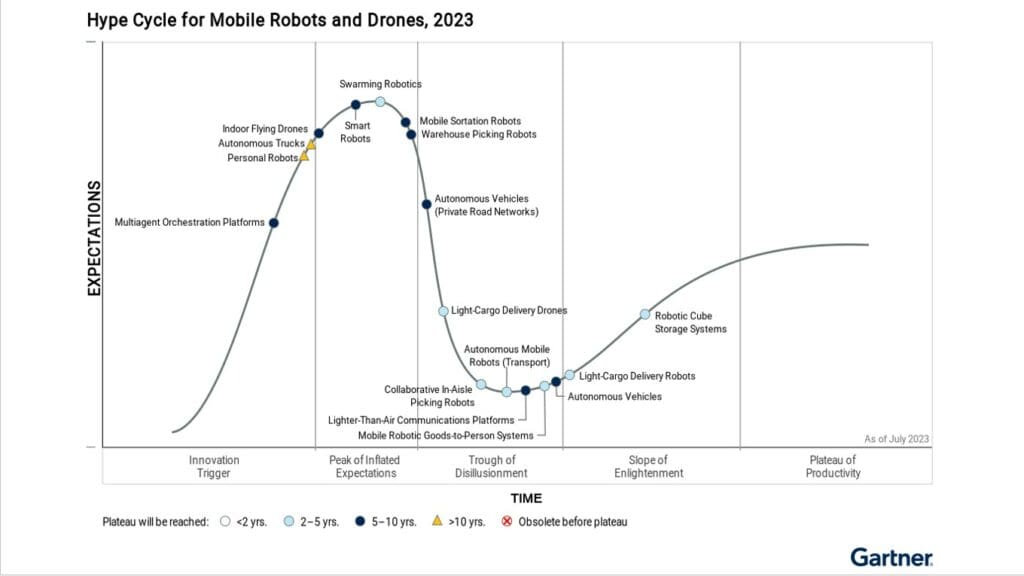 Advanced technologies accelerate the adoption of smart robots
Smart robots are nearing the "Peak of Inflated Expectations" where early publicity produces success stories, but expectations rise above the current reality of what can be achieved. These AI-powered, often-mobile machines help supply chains automate multiple physical tasks.
Smart robots can rely on advanced technologies such as machine learning to incorporate tasks into future activities or support unprecedented conditions.
As companies expand their use of robotics, most will eventually have heterogeneous fleets of robots from different vendors performing various tasks, which will require standardized software that can easily integrate into a variety of agents and robot platforms.
As such, multiagent orchestration (MAO) platforms, which help orchestrate work are "on the rise" in this year's Hype Cycle. MAO platforms will reduce the time, effort and cost to onboard new robots and will lower support costs, ultimately making organisations more efficient.
Klappich noted that in the past year, we've seen increased interest in smart robots and MAO platforms as companies are looking to further improve logistic operations, support automation and augment humans in various jobs.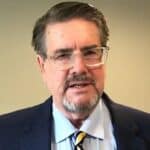 "Rapidly emerging and evolving technologies, like MAO, will enable organisations to leverage heterogeneous fleets of mobile robots to assist with more complex activities, delivering cost savings and productivity benefits."

Dwight Klappich