According to the latest report by Strategy Analytics, Chinese vendors dominated the market for IoT modules in 2018 with five of the top 10 IoT module vendors by volume coming from China.
The top five suppliers accounted for 60% of global cellular IoT module shipments while the top five vendors by revenue captured 71% of the market. However, despite comprising 42% of overall volumes, Chinese vendors only made up 24% of revenues overall, reflecting the low ASPs for devices in the domestic Chinese market.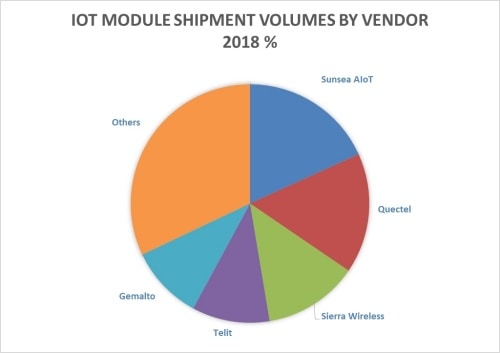 Entitled "IoT Module Vendor Market Shares Update", the report revealed that China's Sunsea AIoT has gained the number one position in the market for the first time following its acquisition of SIMcom and Longsung.
"Over the last few years, 2G devices have been dominant in IoT projects in China, but this is shifting to NB IoT devices and momentum shows no signs of abating, with several major projects from China Mobile and China Unicom starting in late 2018 and throughout 2019 driving volumes," said Andrew Brown, executive director of enterprise and IoT research at Strategy Analytics.
He noted that with the domestic preference in China for local vendors for large infrastructure projects at a lower price point per module,  volume sales for Chinese IoT vendors have soared worldwide.
"However, vendors with a higher-end product mix and ASP saw them take a larger share of revenue, a trend we expect to see for the full year 2019 as well," Brown said.
Strategy Analytics expects the IoT module market  worldwide  will have double-digit growth for the full year in 2019.