Singapore leads six other APAC cities that made the top 10 of  the Safe Cities Index (SCI) 2021 released yesterday by The Economist Intelligence Unit (EIU). The other APAC cities are Sydney, Tokyo, Wellington, Hong Kong and Melbourne.
Now on its fourth edition, the index, is the centre piece of a research project sponsored by NEC Corporation. It ranks 60 cities across 76 indicators, organised along five pillars: personal, health, infrastructure, digital and – new this year – environmental security.
The Lion City ranks third in the worldwide survey behind Copenhagen and Toronto, which place first and second respectively.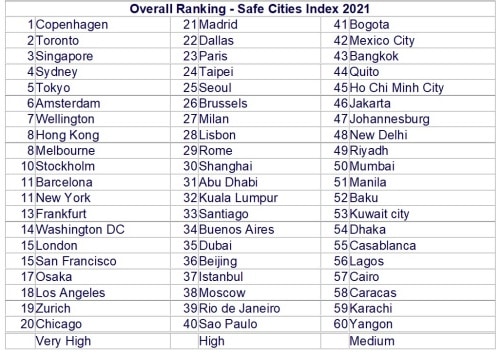 "Digital security is now an even higher priority as more work and commerce have moved online; those responsible for infrastructure safety have to adjust to dramatic changes in travel patterns and where residents consume utilities," said Naka Kondo, senior editor of The EIU and editor of SCI 2021.
"Agencies responsible for personal security need to address a large, lockdown-driven shift in crime patterns; and the priority that urban residents and officials assign to environmental security has risen markedly as covid-19 serves as a stark warning of unexpected crises," she added.
Research shows that the performance of different safety pillars correlates very closely with each other, signifying that different kinds of safety are thoroughly intertwined. The top performers in each pillar are as follows:
Digital security: Sydney (1), Singapore (2), Copenhagen (3), Los Angeles / San Francisco (4),
Health security: Tokyo (1), Singapore (2), Hong Kong (3), Melbourne (4), Osaka (5)
Infrastructure security: Hong Kong (1), Singapore (2), Copenhagen (3), Toronto (4), Tokyo (5)
Personal security: Copenhagen (1), Amsterdam (2), Frankfurt (3), Stockholm (4), Brussels (5)
Environmental Security: Wellington (1), Toronto (2), Washington DC (3), Bogota (4), Milan (5)
The Safe Cities Index reveals that different global region have distinct strengths. In particular, well-off Asia-Pacific cities tend to perform better on average when it comes to health security and infrastructure security, while European cities on personal security and North American cities on digital security.
Meanwhile, the introduction of the new pillar for environmental security in this year's index reflects the increased importance of sustainability issues and climate adaptation measures amid the pandemic. Toronto and Copenhagen performed noticeably better in the new environmental security pillar than do any of the top-three cities from earlier years. Interestingly, the index also shows that leading middle-income cities do far better in this area than in any other categories. In particular, three at this income level finish in the pillar's top ten: Bogota (4th); Rio de Janeiro (8th); and Kuala Lumpur (10th).