Australian parcel delivery service provider CouriersPlease has deployed Zebra Technologies' TC56 handheld devices  to manage its couriers' pickups and deliveries, leading to an improvement in its customer service and staff performance.
The company took the opportunity to upgrade its previous handheld devices when Microsoft announced the end of its extended support of Windows Embedded and Mobile operating systems in January 2020.
"Our couriers were previously using a device running the Windows Mobile operating system to manage their pickups and deliveries, but those devices were approaching their end of life. There were issues with functionality, durability and battery life that were significantly impacting our franchisees' ability to manage their business effectively," said Jessica Ip, Chief Transformation Officer, CouriersPlease.
CouriersPlease is a leading parcel delivery service with nationwide coverage across Australia from 18 locations and approximately 750 independently owned franchisee courier businesses. It offers both same day and next day delivery services and is heavily dependent on technology to enable it to be very price competitive in its same day delivery service.
Seamless transition
Zebra's TC56 offers a seamless, fast and easy transition from CouriersPlease's legacy devices, and worked well with the CouriersPlease CPGo custom Android-based application. The purpose-built mobile device has increased scanning speed, added functionality with ready-to-use voice solutions and improved battery life of up to 14 hours, thereby enhancing productivity.
"Zebra's TC56 is able to support our new CouriersPlease CPGo application developed for our delivery drivers. Additionally, the solution is robust, easy to use and easy to see under bright sunlight. It can also reliably and quickly scan parcel barcodes that could be dirty, damaged or poorly printed," added Ip.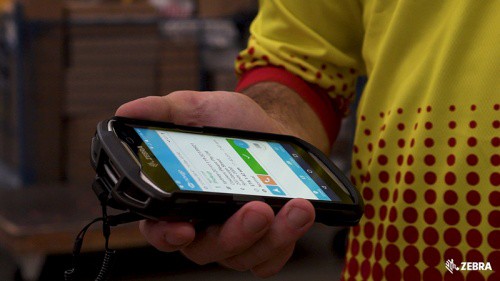 According to Zebra Technologies, the end -to-end process that ended in the deployment of the new devices took more than 13 months to complete. The technology provider worked closely with  partner, Invia Pty Ltd, to better understand the needs of CouriersPlease before the solution was tested and subsequently deployed.
"There was no product customisation required as each Zebra TC56 device was packaged with a cradle. This allowed it to be easily mounted in the vehicle for operational use, which saved CouriersPlease a great deal of time and resources. In the previous installation of in-vehicle devices, CouriersPlease staff had to spend a lot of time installing and setting up devices," a Zebra Technologies spokesperson told FutureIoT.
The Zebra TC56 is powered by Android and comes with some of the latest technology on the market for enterprise grade rugged mobile computers like the Snapdragon 650 CPU and Android 8.1 Oreo Operating System (OS), GPS tracking, better processing capability of route optimization and up to 14 hours of battery power.
"During the implementation, CouriersPlease took up the Zebra Professional Services which relieved them of a great deal of burden in terms of application installation and device configuration," said the company spokesperson. "Subsequently, during the deployment, the transitioning of their operations was seamless thanks to the Android operating system of Zebra's TC56, which is familiar to their franchisees and staff who have used a smartphone."
Zebra Technologies said CouriersPlease franchisees also benefited from the voice-to-text functionality featured within the TC56, which was previously unavailable. This voice-to-text feature enables franchisees to easily capture addresses and other information from shipments.
Lower total cost of ownership
Currently, CouriersPlease has approximately 850 units of Zebra TC56 running its CPGo custom courier application.
As the TC56 is covered under Zebra's LifeGuard for Android, the software security solution extends the lifecycle of Zebra Android enterprise mobile computers by adding years of OS security support to match the enterprise hardware lifecycle. This significantly lowers total cost of ownership.
Upgrading its handheld devices allow CourierPlease to stay on top of the technological requirements that are needed to survive the digital future.
"According to Zebra's Future of Fulfilment Vision Study, more than half of parcels will be delivered in under two hours by 2028. And it is expected that handheld mobile computers with barcode scanners will be used by 99 percent of respondents for omnichannel logistics by 2021," said Tom Christodoulou, regional director of Australia and New Zealand, Zebra Technologies. "The digital transformation journey is a natural move for any forward-thinking company, and we are delighted to support CouriersPlease in its transformation to becoming a digital e-commerce service provider."