Monthly tariffs for smart home services charged by operators are lowest in Moscow and highest in Dubai.
These are among the findings of a study on smart home availability conducted by the Department of Information Technologies of Moscow (DIT).
The tariffs cover the installation of equipment (devices, sensors etc.), as well as rental and servicing costs for a minimum period of three years.
In Moscow, operators charge a minimum of €7.6 per month for smart home solutions. It's slightly higher in Berlin (€7.9) and Paris (€12.5), according to the study.  Sydney, London, and Toronto came in fourth, fifth and sixth, respectively,
"With the development of digital technologies, smart home devices are becoming more and more popular among Muscovites. More than 5% of Moscow families have already bought and used such devices, while in some countries, such as Norway, Denmark (and other Scandinavian countries), as well as the United States, one in four families are already using smart home devices," the authors of the study commented in a media release.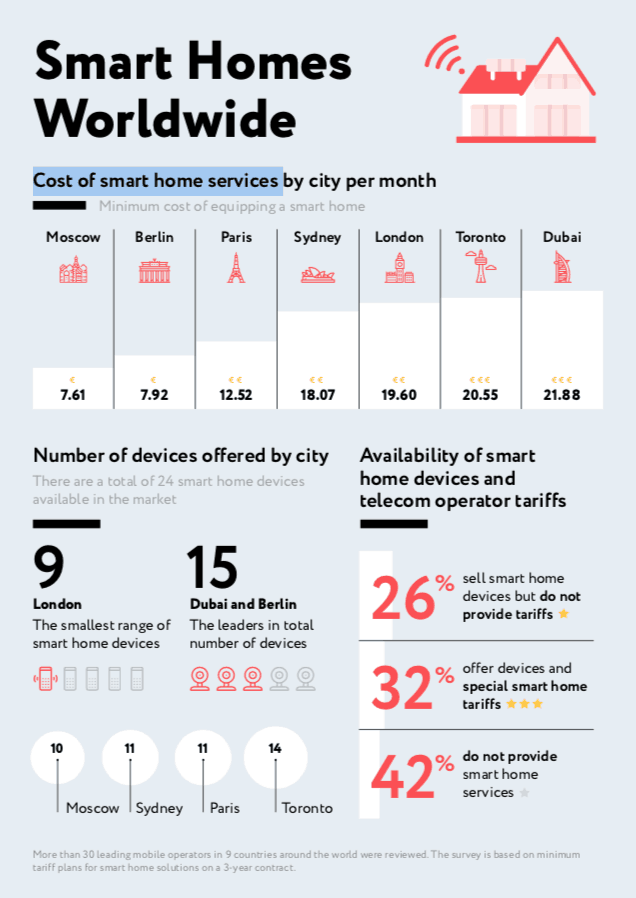 "Telecoms operators are active players in the smart home market. At present, more than half of the world's major telecoms operators offer smart home solutions with devices and special Tariffs," the study added.
According to DIT, the 24 most popular types of smart home equipment include plant care sensors, smoke detectors, air quality sensors, water leak detectors, and opening and closing sensors.
These devices are divided into four categories: ecology, security, light and electricity, and hardware.
The study looked at over 30 leading telecoms operators in nine countries, focusing on the cost of their minimum smart home tariff plan under a minimum three-year contract.
The study reveals that 42% of telecoms operators in megacities do not supply smart home services, 32% sell devices and offer special tariffs, and 26% sell smart home devices but do not offer tariffs covering their connection and servicing.
Analysts predict that the global smart home device market will grow at an average annual rate of over 20% to reach 1.3 billion devices in 2022.
Research firm IDC expects the global market for smart home devices to grow 26.9% year over year in 2019 to 832.7 million shipments.
More than 70 million homes worldwide have one or more smart home devices today, according to ABI Research.
The DIT has been rapidly developing in the past five years. To date, it said it has created over a thousand systems and services and are targetting to launch around 300 new projects annually.
"We are aimed at continuing the process of effective informatization of the city with an emphasis on innovation development and advanced technologies application," it said.