Work automation has gained popularity in recent years, with wide robotic applications in our daily lives to free up human labour through highly efficient execution abilities. However, agnostic platforms to coordinate and control robots of different brands, functions and systems were absent, keeping our robots away from creating synergy in the most efficient way possible.
Meanwhile, intensifying community issues such as an ageing population and declining birth rates further widened the local workforce gap, there is thus an urgency for society to proactively explore alternative approaches in maximising the potential of robots, which in turn elevates our quality of life, especially for those with a lower self-care ability such as the elderly and the sick.
On the other hand, as environment, society and governance (ESG) subjects become more prominent, organisations increased their investment in sustainability and environmental research, in order to look for solutions that can boost energy efficiency through robotic technologies.
Hong Kong-based robotic applications and systems developer, RV Technology demonstrated a self-developed Agnostic Robotic Control System (ARCS).
During a press conference at the Hong Kong Science Park, RV Technology introduced how ARCS can manage and control different robots from multiple brands and provided a platform for ARCS-managed robots to demonstrate tasks in different scenarios.
Today, ARCS is adopted in the fields of rehabilitation and healthcare, providing more autonomous and refined care services, as well as easing the burden of healthcare professionals with the help of smart technologies.
Rio Chau, CEO of RV Technology says, "Leveraging on the ARCS' centralised control system, we expect shorter lead times for programming and integration of different robots, alongside higher flexibility in synchronisation, bringing efficiency and convenience benefits to a wider spectrum in our everyday lives. We strive to create a more livable and promising future and keep looking into comprehensive environmental solutions through systematic data mining in support of the city's sustainable development."
Not only can ARCS help enterprises and organisations to improve efficiency and save cost, but its distinctive feature of centralised management also smoothens the process of data management and analysis, by resolving the isolation deadlock of different types of robots.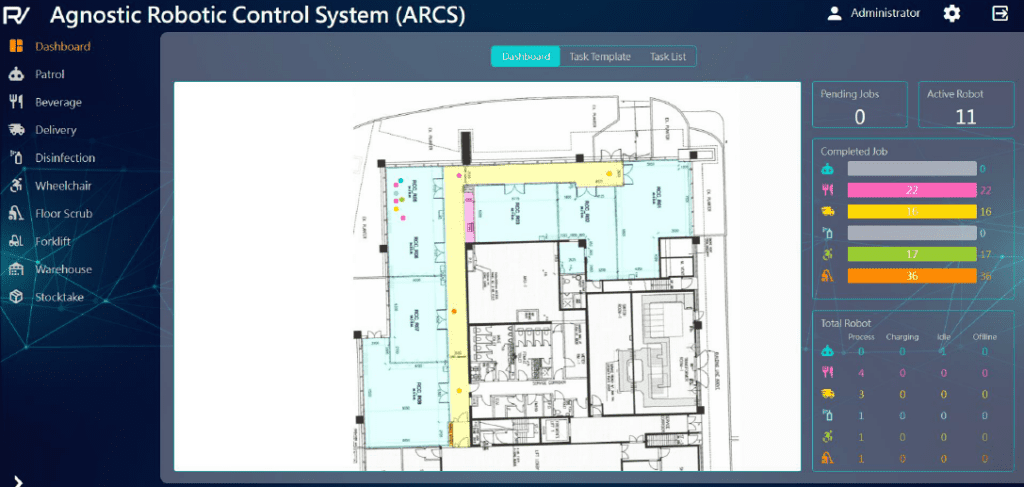 In the foreseeable future, ARCS will be able to integrate artificial intelligence to cater to different scenarios, create the most suitable application plans, and provide tailor-made suggestions derived through analysis of environmental data collected by robots, bringing sustainable performance of corporations and organisations to the next level.