All businesses have a few things in common – they all want to make money (even charities are in it for the money), they all depend on some form of technology to push the business forward – some more than others, and digital transformation appear to be one of the common threads of discussion – mostly because if you don't digitize your business, someone else will come in and take your business.
It may be a cliché these days but the likes of Grab, Alibaba and Uber, have shown that it is possible to grow a business from nothing more than an idea powered by technology.
But more than just enabling it, Gartner says technology is amplifying continuous change at an ever-increasing velocity. It recommends businesses position their organisations to foster perpetual innovation, integration and delivery.
One technology that has been reshaping many industries in recent years is Internet of Things (IoT). Embraced in the form of smart mobile devices, these innovations have transformed the way consumers want to engage and be engaged.
For most enterprises and governments, the extension of IoT is Industrial IoT (IIoT) – the application of sensors and edge devices to transform the way businesses run. The e-commerce ecosystem of manufacturers, logistics and retailers are prime beneficiaries, and sadly victims for those too slow to adapt, of IIoT.
The Zebra Technologies report, The Future of Field Operations Vision Study, suggests that e-commerce is driving industry transformational initiatives as participants look to capitalize on technology and business process innovation to drive growth.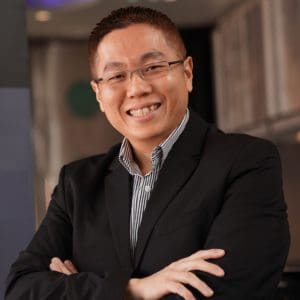 FutureIoT spoke to Tan Aik Jin (photo right), APAC vertical solutions lead, Manufacturing and Transportation & Logistics, Zebra Technologies, on his views on how IIoT is turning different players upside down in their quest to digitally transform their business.
Among the findings of the survey is that near "60% of companies stated their field operations strategies are 'mobile first.'  Based on this "mobile first" mindset, what is the outlook for IIoT in general and IIoT in Southeast Asia in particular?
Tan Aik Jin: According to Zebra's study, up to 57% of the survey participants across APAC agreed that their field operations strategies are 'mobile first,' an indication that they are aware of how adopting mobile technology can improve their teams' performance.
Notably, up to 58% of surveyed organisations across APAC are expanding mobile technology to enterprise-wide usage and this is expected to reach 97% by 2023.
It is therefore evident that mobility investment is becoming a bigger priority for APAC organisations, and that the usage of more mobile devices is expected to continue growing in the future. There will also be the utilization of more handheld mobile computers and ruggedized tablets by deploying them to support field mobility, such as cloud computing and storage to a greater extent.
Why must businesses today equip their front-line workers with IIoT?
Tan Aik Jin: The Future of Field Operations APAC Vision Study revealed that up to 90% of consumers read online reviews before visiting a business, while 88% trust online reviews as much as personal recommendations and 86% hesitate to purchase from a business that has negative online reviews.
Clearly, e-commerce and mobile connectivity have given customers more ways to order goods and services, while online feedback platforms have enabled them to hold services providers to higher performance standards.
Therefore, it is no longer enough to do things the traditional way of using pen and paper, and there is a need or organisations to equip their field operations front-line workers with the necessary technology solutions to meet the high expectations of today's consumers.
In fact, up to 66% of the surveyed organisations say that e-commerce is driving the need for faster field operations. With the right tools like a mobile-enabled ruggedized tablet in hand, field operations front-line workers such as an on-site technician will be able to conduct troubleshooting while referring to manuals virtually, whereas field salespersons can easily refer to online brochures stored virtually in the company's database.
What are organisations looking for in connected mobile devices that fit their needs?
Tan Aik Jin: Companies are increasingly aware of the importance of gauging a device in terms of the total cost of ownership (TCO), rather than upfront costs, to drive operational visibility. While many businesses may consider the use of consumer devices rather than purpose-built, ruggedized enterprise devices, this can have a detrimental effect on productivity, efficiency and cost-savings in field operations. Businesses are now looking for solutions that provide clear value-add factors, as well as help to control breakage and repair costs.
As such, the field operations decision-makers spoken to for the Future of Field Operations Vision Study overall believe in the value of conducting a TCO analysis of enterprise devices, with over three-quarters of APAC respondents usually or always conducting such an analysis of business devices prior to making a capital expenditure.
What are the other trends you see in the drive toward the adoption of IIoT in Southeast Asia?
Tan Aik Jin: We are seeing businesses embrace emerging technologies such as artificial intelligence and augmented/virtual reality and implementing them within the context of field operations. For example, ruggedized tablets allow fleet managers to access schematics wherever they go – whether out in the field or in harsh work environments. Cloud computing enables workers to access work orders or other large data quickly and securely.
Another emerging scenario is the use of AR. For example, a route sales associate for a grocery store may use a head-up display (HUD) running an augmented reality (AR) application that guides him through the proper stocking process, with an overlay on the HUB showing where items should be placed and their correct orientations.
Another example is in the increasingly common use of RFID tags and handheld readers. As part of their fleet of IoT devices, organisations are embedding passive RFID tags on almost every asset; they are also implementing the use of rugged tablets equipped with RFID readers and a vehicle telematics database with truck componentry operating and inspection data.
Drivers can easily inspect these RFID tags through their tablets and tally them in their database, while fleet managers ensure compliance while utilising vehicle operating data and inspection data to maximize fleet uptime.
The Future of Field Operations study forecasts that within the APAC region, we will see the following changes in the adoption of emerging technologies from end 2018 to 2023: use of sensors, RFID, intelligent labels will grow from 76% to 98%; blockchain use will increase from 68% to 96%, and the use of augmented or virtual reality will improve from 68% to 95%.
What are the challenges that Asian companies usually hurdle in implementing IIoT projects?
Tan Aik Jin: The typical challenges faced by many companies when implementing an IOT project can include; budget, lack of in-house IT expertise to run the new project, legacy systems, training of front-line staff who will be using the new tools, coordination between internal groups and the difficulty in deploying the new technology.
That said, as mentioned earlier, the rise of e-commerce and mobile connectivity have enabled customers with more ways to order goods and services, and that online feedback platforms have allowed them to hold services providers to higher performance standards. Therefore, the traditional paper-based system is no longer enough if organisations want to meet the high expectations of today's consumers.