Changi General Hospital (CGH), together with CapitaLand Investment (CLI) and KONE, have joined forces to testbed the integration of multifunctional robots and building infrastructure at Heartbeat @ Bedok and the CLI-led Smart Urban Co-Innovation Lab (the Lab) at Singapore Science Park 2.
The testbeds are guided by Singapore's Technical Reference (TR) 93, the new national guidelines that seek to harmonise data exchanges between autonomous robots and building infrastructure for effective deployment through horizontal and vertical spaces.
"As a smart and Caring General Hospital, we innovate and collaborate widely within and beyond healthcare to create new value, benefit our communities, and contribute to the nation's efforts in Research, Innovation and Enterprise," said Professor Ng Wai Hoe, chief executive officer, CGH.
He added: "The invaluable partnerships with CLI, KONE, Enterprise Singapore and other industry players enable us to leapfrog healthcare solutions to new ground and open up endless possibilities. We are excited that RoMi-H, which first started as a solution for healthcare, can now be integrated with smart infrastructure, potentially accelerating the scaling up of automation and robotics technologies in Singapore and the world."
Touted as the world's first, the standardised RoMi-H, short for Robotics Middleware for Healthcare, has paved the way for multiple robots with different proprietary systems from different technology providers to communicate and sync together through common data exchanges.
RoMi-H is developed by CGH's Centre for Healthcare Assistive and Robotics Technologies (CHART) and other partners.
Now, by enabling integration with the building infrastructure through efficient communications with lifts and doorways, these various robots can travel autonomously and safely through indoor and outdoor spaces and gain access to various storeys in a multi-storey building.
These crucial developments led by cross-industry efforts are a boost to Singapore's robotics ecosystem in line with the national Research, Innovation, and Enterprise 2025 plans, as they help to reduce the time and costs needed to integrate robots with buildings, enhance efficiencies, support the safe deployment of robots within dynamic environments, as well as create new opportunities and jobs.
First-of-its-kind testbeds
Leveraging CGH's technology expertise and CLI's global network of partners through its Smart Urban Co-Innovation Lab, the first-of-its-kind testbeds are designed to enable industry players to interface RoMi-H with KONE's next-generation lifts, which comes with cloud connectivity capabilities and open application programming interface (API) that is aligned with TR 93.
Heartbeat @ Bedok is one of the testbed sites, where CGH and KONE have successfully integrated robots with a next-generation lift.
The other testbed site at The Galen at Singapore Science Park 2, provides a realistic, accessible and secure operating environment for companies to "plug and play" their own technologies and test the integration with lifts. This will allow building owners in any sector to interweave functions of diverse robots into complex operational workflows.
Over 25 local and international industry players have shown interest to be part of the testbed, and more technology players, start-ups, SMEs, as well as adopters including facility management companies, are expected to join and benefit from this initiative in the near future.
"Our collaboration with CGH and KONE allows us to further advance innovation by bringing partners from our global network to testbed cutting-edge robotics solutions for the built environment industry," said Aylwin Tan, chief customer solutions officer, CLI, and director of Smart Urban Co-Innovation Lab.
He added that CLI has been at the forefront of innovation in support of the Singapore's efforts to build a smart and sustainable city.
"As Southeast Asia's first industry-led lab for smart cities solutions development, our Smart Urban Co-Innovation Lab has engaged with over 700 companies across a wide range of industries to identify opportunities and co-create solutions for smart sustainable cities," said Tan.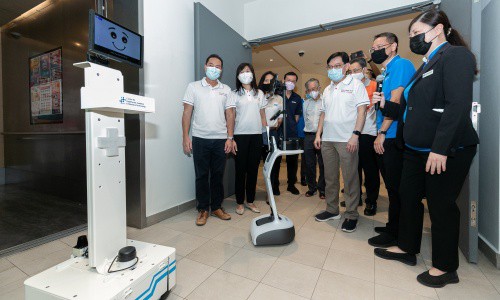 New standard in syncing robots with building infrastructure
RoMi-H has been successfully test bedded for deployment at public sector hospitals and at COVID-19 Treatment Facilities to augment operations and care. Its innovative interface enables robots to navigate autonomously in human-rich environments, proactively and independently de-conflict their navigation routes with robots of different makes across narrow common pathways, and execute their individual tasks in a co-ordinated manner. This also allows for a universal charging system and fleet management to be developed so that the different robots can be more efficiently managed.
Furthermore, the development of the TR93 standards provide guidance to robot manufacturers and building owners in deploying multiple robots in smart buildings and accelerate the take-up of robotics technologies in multi-storey buildings.
TR93 was driven by CGH's CHART and local engineering firm HOPE Technik, and supported by the National Robotics Programme and Enterprise Singapore.
With the ability to integrate autonomous robots with next-generation lifts and automated doorways, technology providers, system integrators and building owners can explore and easily adopt the innovative use of robotics technologies in buildings.
Choy Sauw Kook, director-general (Quality & Excellence), Enterprise Singapore, said: "The Singapore Standards Council, overseen by Enterprise Singapore, is proud to have worked with CHART and various stakeholders to enhance the integration and adoption of safe and effective robotics solutions through the development of TR 93. We envision that this new standard will help spur more deployment of robots in the built environment as it provides a common data interchange platform for various system and equipment providers to work together."
KONE, on the other hand, is proud to be a key contributor to the development of TR 93.
"New technologies, such as in the area of robotics, are rapidly changing the way our customers construct and operate buildings. We have increased investments in advanced technologies and broadened our digital capabilities to collaborate and co-innovate with different stakeholders in the built environment sector. We see great opportunities to progress our efforts in Singapore, with its strong focus to be a smart and sustainable nation," said Samer Halabi, executive vice president, KONE Asia Pacific, Middle East & Africa.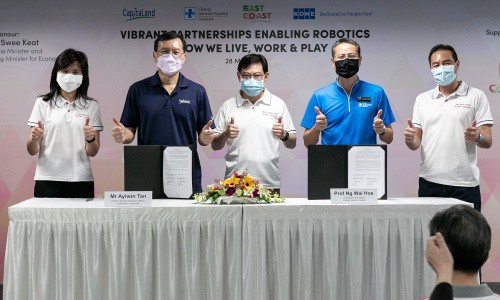 Forging vibrant partnerships in East Coast
Meanwhile, CGH and CLI – the two of the founding partners of Vibrant @ East Coast – joined forces with KONE, to co-create innovative solutions to benefit communities and industries under the East Coast Vibrant Community Footprints
The official launch of the partnership was witnessed by Guest-of-Honour, Heng Swee Keat, Deputy Prime Minister and Coordinating Minister for Economic Policies, Chairman of the National Research Foundation and Adviser to East Coast Group Representation Constituency (GRC) at Heartbeat @ Bedok.
CGH and CLI also signed a Memorandum of Understanding to create co-innovation and deployment opportunities to drive discovery, adaptation and adoption of smart cities solutions, and develop initiatives to excite, educate and engage the community in health and wellness. Innovations arising from the partnership are expected to overcome common challenges, increase productivity and help the industry, including small-and medium-sized enterprises (SME), to grow.