With a growing population suffering from various health conditions and increasing awareness around the importance of monitoring health conditions, the wearable biosensor device market is estimated to reach about US$25 billion globally by 2030 with a CAGR of 23%, according to a latest report  by Lux Research.
Although active and continuous monitoring solutions are available gaps remain that point to the opportunity to develop innovative solutions. Many existing devices for prevalent health conditions are either bulky and cumbersome or invasive and inaccurate long-term for on-demand monitoring applications. And all of them are deemed expensive.
In contrast, wearable electronics offer biosensing capabilities that are convenient and allow consumers to monitor their health on a continuous basis and derive insights.
Lux Research has identified five leading health conditions – cardiovascular diseases, diabetes, stress, hydration and sleep disturbance –  that significantly impact daily life for consumers, thereby offering opportunities for companies to develop consumer-centric solutions for diagnosis, monitoring, and prevention.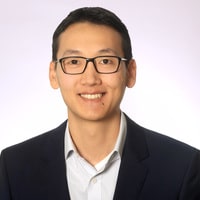 Entitled "Emerging Biosensor Technologies: Landscape and Market Forecast", the report outlines recent innovations in biosensor technologies, discusses challenges that stakeholders will need to overcome, and provides an outlook for the technology and business of biosensors.
"Patients today face enormous financial and psychological burdens because of rapidly rising healthcare costs. The rising prevalence of various health conditions in the population is placing tremendous pressure on already-overburdened healthcare systems," said Lisheng Gao, Ph.D., analyst at Lux Research and lead author of the report. "On the flip side, this offers substantial business opportunities, particularly in the area of consumer-centric healthcare technologies."
Varying degree of development
Biosensors offer tremendous promise as convenient, easy-to-use, and low-cost solutions to monitor underlying physiological conditions compared to other incumbent diagnostic techniques. This will lead to an increase in applications for biosensors, such as vital signs monitoring, metabolism monitoring, biomarker detection, and disease diagnosis.
However, many challenges related to precision, accuracy, and commercialization, and deployment need to be overcome before biosensors can gain widespread adoption in consumer health and wellness.
"Depending on the stage of development of the biosensing technology, developers focus on developing safe, sensitive, and corrosion-resistant materials, validating the science behind the proposed mechanisms, and/or optimising the algorithms to improve accuracy and precision," Gao said in the report.
Gaps remain to be filled before technologies can be fully commercialised. Developers will continue to develop materials, validate the science, and/or optimise the algorithms to enhance accuracy and precision and improve overall device efficiency.
"Consumer-level devices will go through clinical approval. Developers will leverage the enormous amounts of data being collected by these sensor devices via machine learning-enabled analytics to improve the performance of the devices and subsequently pursue clinical approval, thereby allowing them to enter the higher-value healthcare market," Gao said.
Huge potential market
According to the report, the U will dominate the bio-sensor market, followed by Asia Pacific and North America. The EU has a high prevalence and incidence of the five leading health conditions, which resulting in a large potential user base.
The region also has a higher willingness to use advanced healthcare technologies and very supportive healthcare systems. All of these factors contribute to its domination of the market.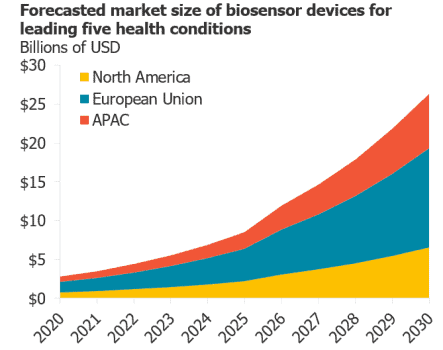 The market size in the APAC region is largely due to the high population. The strong buying power and good insurance acceptance in North America help the market proliferate, but it does not have the population advantages of other regions.
"Among the biosensor devices for the five health conditions. Only biosensor devices for cardiovascular disease and sleep disturbance will dominate the market with forecasted market above US$10 billion, respectively," Gao said.
He added: "It is due to the well-developed and market-ready technologies. On the other hand, the market for diabetes, stress, and hydration will be small and will see a delayed take-off because the technologies are either still under development or in early stages of market introduction."