At the height of the pandemic in 2020, some private clinics would not accept patients exhibiting signs of the flu for fear of contagion. In some cases, there was also a shortage of over-the-counter medicines as those who were unable to get to doctors, clinics or hospitals took to self-medication to ride out the pandemic.
As governments look to address public health and safety issues, a collaboration between the Singapore University of Technology and Design (STUD) and Minmed-SmartRx promised convenient, remote health services for those who are unable to come face-to-face with a healthcare provider.
FutureIoT spoke to Tong Ping Heng, managing director at SmartRx, on the challenges to automating the provision of healthcare.
What is the vision of smart RX? From that perspective? What do you hope to achieve with the business?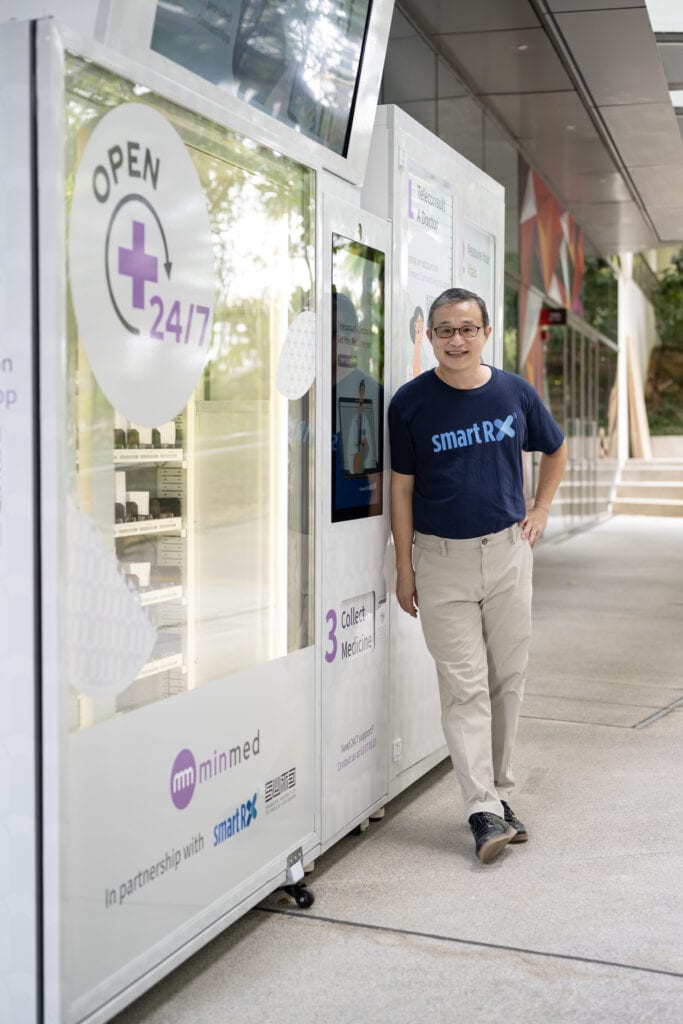 Tong Ping Heng: We wanted to first reduce the number of trips to the hospital. We want to make the collection of medicines quick, convenient, and easy. This is why we developed an integrated solution where you can have your tele consultation, and then collect your drug immediately after.
Today, when you have a teleconsult, what happens? The doctor will diagnose you, and then ask you to wait a few hours to have the medicine delivered to you. Imagine if you have kids running a high fever, or you yourself suffering from diarrhoea, can you wait three to five hours?
Of course, this is better than going to wait at the clinic or hospital for a few hours—so that's already a big improvement, but you still need to wait for your medicines to be delivered to you.
We are trying to change that. Imagine having a medicine vending machine that is just like an ATM. You could go there, and through self-service pick up medication anytime, anywhere 24/7. You can collect medicines, and buy your medicines, all at your convenience. Imagine an automatic pharmacy machine every 400 to 500 metres that is accessible within 10-15 minutes by foot or cycle. Whether near your work or home, you can just pick it up without the waiting time associated with teleconsultations and their medicine delivery.
That is what we are trying to do, not just for Singapore, but also across the region where quality care is very uneven. People oftentimes must travel to the major cities to get better healthcare. With our system, we are trying to democratise health care to include smaller towns and villages in the country or around the world. So, think good quality care, good quality medicine that is available throughout the country.
The SmartRX platform is an ecosystem of multiple parties coming together to deliver a service. What are the challenges that must be resolved to achieve the same outcome as the example of the STUD-Minmed-SmartRX partnership?
Tong Ping Heng: Even in Singapore it is very difficult. On the regulatory front, we need partners who are licensed to practise healthcare and dispense medicines. Even in these two areas, there could be different regulators. In Singapore, for example, the Ministry of Health (MOH) oversees doctors while pharmacies fall under the Health Sciences Authority (HSA).
SmartRX must work with two different partners because we are not licensed holders to provide either service. Our value proposition to healthcare practitioners is that SmartRX becomes the technology platform with a micro warehouse-like system through vending machines, able to dispense prescribed medicine at locations convenient to the patient, who can also teleconsult with their doctor at their own time.
Do you think consumers in Asia are ready for this type of healthcare service?
Tong Ping Heng: There are a few categories of consumers. For those with multiple chronic problems, draw multiple doses of different medications and sometimes may need larger quantities for treatment. These patients may be best served with the current practice.
For those with acute conditions, like red eyes or colds, or if the patient is unable to leave the house, SmartRX may just be the answer. For sure, there are different use cases from a consumer perspective.
When it comes to the provision of healthcare service itself, the MOH already completed the sandbox and today, GP clinics can widely provide teleconsultation. If we bring smartRX into the ecosystem, the opportunity to work together boils down to the integration of our platform or backend to their apps to make it seamless.
Outside of the practitioner and patient, other technical aspects that need to be considered if SmartRX were to be deployed involve negotiating with landlords, be they office buildings, factories, or dormitories.
As for the payment system, for Singapore, our physical terminal covers various payment gateways such as credit cards and NETS, along with digital payment like Google Pay and Apple Pay.
What would interest hospitals in SmartRX? Hospitals may want to distribute their patient load away from their central pharmacy. This would reduce the long queues often found in hospital pharmacies, allowing staff to focus on more critical or complicated drug dispensing.
In situations where medicine dispensing has been centralised, patients don't need to go all the way to the central pharmacy for collection of their drugs. Obviously, the challenge here is integrating into the hospital's electronic medical record system.
What the pandemic has taught us
Tong Ping Heng: One of the health scares of the pandemic is the risk of infection from using public facilities. At SmartRX there are technologies built in to disinfect the surfaces of our machines and consultation pods, similar to nanotech solutions used in high-touch areas like toilets, lift (elevator) buttons, and door handles.
During the pandemic, the traditional methods of medication collection might not have been the best solution. A safer, more convenient way for drug collection without the need to visit a healthcare institution could be made possible using SmartRx's solution. We chose our partners depending on the various use cases and moving on from the pandemic it would be about building trust between the practitioner, the business, and the patient to have a successful system in place.
Metric for success
Tong Ping Heng: If my mom or family member can say "This form of healthcare is very convenient", "I don't need to go to the hospitals so many times", and "I love it", they will probably be a good validation of my success. From a business perspective, if we can provide machines at locations such as Resident Committee Zones, ActiveSG locations, and elder centres, it'll come up to over 700 potential installations. In Singapore, that will be the ultimate goal.