Australia's biggest  online book retailer Booktopia has deployed autonomous robots to handle packing and dispatch orders at its 14,000sqm distribution centre at Lidcombe, New South Wales, boosting its efficiency by 800%.
The 17-year-old company, which has an annual turnover of AU$165 million, has chosen HAIPICK robots from  Shenzhen-based HAI Robotics. The solution differs from a standard autonomous mobile robot solution in that the robots use a telescopic fork that stretches 4m high. This gives the robots the ability to carry cartons as well as individual totes and to bring multiple cases to pickers or conveyors in one movement. This allows Booktopia to gain more speed in completing multiple customer orders at one pick station – greatly improving fulfilment and dispatch rates.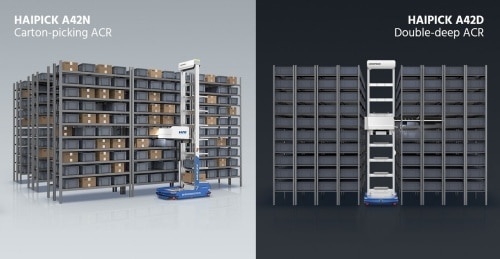 "By deploying this innovative robot solution, we have doubled our capacity and significantly improved our picking and put away rates. This gives us the confidence we need to continue to serve our customers," said Tony Nash, CEO at Booktopia
He added that while although the company's key decider for implementing this technology was efficiency gains, they are now finding improvements across their entire operation.
First Australian deployment
With integration and implementation services conducted by BPS Global, Booktopia is the first deployment of HAIPICK robots in the continent.
"COVID-19 placed immense pressure on e-commerce retailers and we saw volumes reach record heights across the entire retail landscape. We're thrilled to work with Booktopia on the first ever deployment of this innovative automation solution in Australia," said Malcolm Druce, managing partner at BPS Global said. "This investment ensures they are well-placed to meet rising demands and continue to service the nation with its favourite books."
The deployment is a significant win for HAI Robotics, which recently entered the Australia market, as part of an expansion plan outside of China. The warehouse robotics startup is leaning on its technology – touted to be the world's first carton picking and double deep autonomous case-handling system – to give it a competitive edge in overseas markets.
In Australia, HAI Robotics hopes that its robots will help companies like Booktopia to deal with the rising rental cost of warehouses is becoming a major issue across the country, as the HAIPICK solution  now makes it faster and easier for them to increase capacity and storage.
"Through our partnership with BPS Global, the end customer gets access to both local advice, implementation, service, and support as well as the latest in robot-based automation technology," said Michael Rolfing, director of sales – Australia, HAI Robotics.
Advanced robotics and AI algorithms
Hai Robotics uses advanced robotics and AI algorithms to deliver intelligent and customisable warehouse solutions.
As the world's first autonomous case handling robotic (ACR) system, its HAIPICK ACR system enables intelligent picking, storage and handling in the warehouse. The system intelligently identifies the desired totes and cartons, and bringing them to the workstation autonomously. At the same time, the ACR robots can reach up to 6.5m high, taking advantage of the available vertical space most warehouses don't use when using automation solutions.
According to company spokesperson, the robots can be deployed within seven days and can seamlessly integrate with WMS, EMS, and other systems.  Once they are up and running, companies can achieve 3X-4X productivity and 80% to 130% storage density.
Established in 2016, HAI Robotics this year has set up offices in in Tokyo, Japan, and Fremont, United States, while partnering locally to provide full-service and deliver automation faster and easier. In March this year, it secured series B+ funding valued at US$15M.
To date, the company has implemented  over 200 ongoing projects worldwide, covering industries such as e-commerce, 3PL, apparel, manufacturing, electronics, pharmaceutical, energy, automotive, and others.
Meanwhile, its HAIPICK ACR series have obtained the CE Mark, meeting European quality and safety standards.