It looks like consumers in Asia-Pacific are conflicted about the promise of the internet of Things (IoT).
A recent survey in 22 countries across the region reveals that the majority of respondents already own devices connected to the internet and have plans to purchase more.
Yet, nine in 10 said they do not trust IoT manufacturers and service providers to secure their device.
The Internet Society, a non-profit organization dedicated to ensuring the open development and use of the Internet, polled nearly 1,000 Internet users on IoT security and privacy risks.
The results reveal a wide chasm between a burgeoning appetite for connected things — other than the smartphone — and concerns on the perceived lack of security features of these new connected devices.
Device ownership
For the longest time, the smartphone is the darling of the consumer world, desired by the geeks and the not-so-geeks of almost equal measure. Hence, the world has over five billion mobile subscribers and counting. But perhaps, not for long.
The Internet Society Survey on Policy Issues in Asia-Pacific 2018 reveals that the majority of respondents already own devices connected to the internet and have plans to purchase more.
Seven in 10 respondents own at least one IoT device, close to half own three or more devices,  and close to three-fourths plan to purchase an IoT device in the next 12 months, the poll noted.
The most popular of these IoT devices were internet-connected appliances like smart TVs and refrigerators; connected wearables; fitness monitors; and voice command systems like Google Home and virtual reality headsets.
There are differing opinions on whether or not consumer IoT has gone beyond the early adopter stage, but at this stage, some insecurities have set in.
Device insecurity
The poll revealed that 60 percent of those who do not own an IoT device now said they are unlikely to use an IoT device if there are no guarantees that the personal information collected will be fully protected.
Eighty-one percent were worried about their personal information being leaked while 73 percent were worried that hackers may take control of their devices and used them to commit crimes.
Seventy-two percent have concerns about hackers gaining access to personal information, and a further 71 percent were worried about being monitored without their knowledge or consent
These findings have an impact in purchase decisions as two in three respondents say that security is one of the key factors that would influence their decision to purchase an IoT device. The device features, pricing, and device brand were other considerations.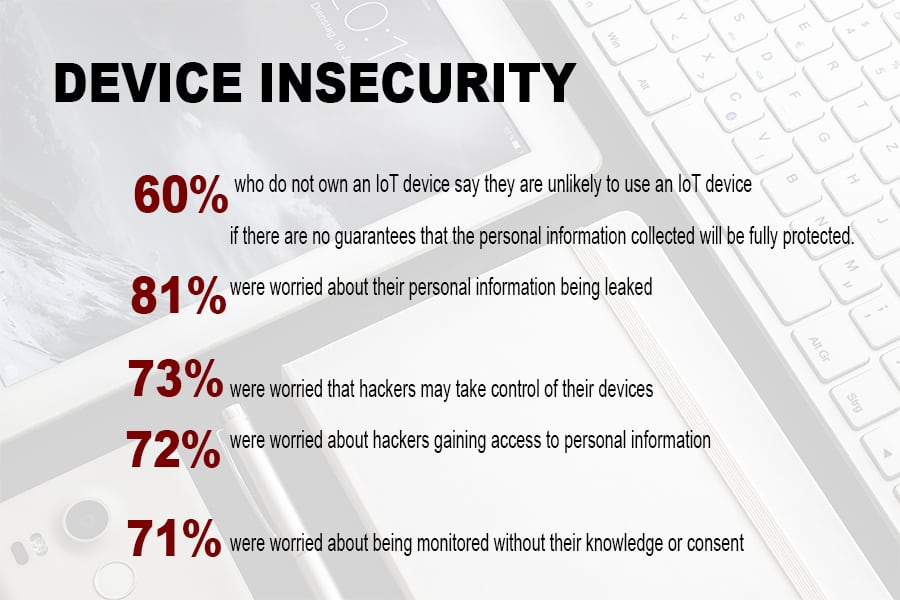 Desire for control
The survey noted that despite overwhelming concerns about security and privacy, consumers in APAC feel they do not have the ability to protect themselves or fail to do so.
Only half of those who own an IoT device have changed default passwords, and only a third have read the privacy and policy terms and conditions of their device.  
Of those who did not change device passwords, 30 percent decided not to, 10 percent did not know how, and close to 50 percent claimed their device did not have one.
Despite this seeming lack of a proactive stance to secure their devices, 9 in 10 consumers would like security and privacy protections to come as standard across all IoT devices, and the same number wished for a security guarantee through a trust mark of certification label to be implemented.
The poll also noted that 84 percent of respondents desire the option to delete personal data collected.
Other wish lists include: knowing what kinds of personal data the IoT device captures (84 percent), knowing who can access this information (83 percent), knowing how this information is used (77 percent), knowing where this information is stored (72 percent). 
"There is a need to ensure that manufacturers and suppliers of IoT products and services protect consumers and the privacy of their data. Currently, the measures that are in place do not match the degree of concern from current and future owners of IoT devices," said Rajnesh Singh Regional Director of the Asia-Pacific Regional Bureau at the Internet Society, said in a media statement.