CITIC  Telecom CPC recently  rolled out a new AR-based maintenance service for data centres that that boost productivity of onsite field engineers by 50%, while cutting the time and cost of troubleshooting and maintenance.
Called DataHouse AR Remote Hand Service (AR Remote Hand), it uses AR glasses to stream real-time intelligence, troubleshooting logs graphics and encrypted data from backend systems to onsite engineers and maintenance staff.  By wearing the glasses, they do not have to stop working to communicate with backend support teams via a laptop or a phone, nor to refer to a paper manual.
The new solution is a product of the partnership between CITIC Telecom CPC and the Hong Kong Applied Science and Technology Research Institute (ASTRI). It meets growing demand for a sophisticated solution to support in managing the increasing complexity and diversity of equipment used in data centres today.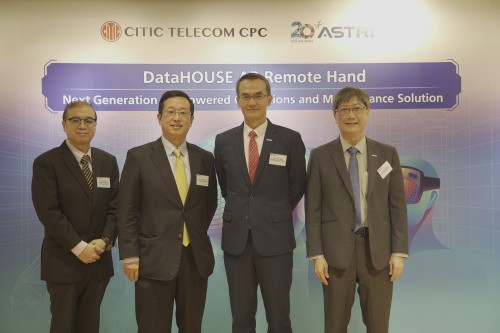 AR Remote Hand enables field engineers across multiple locations to overcome the challenges of multiple languages and skillsets in multi-technology environments; as well as to manage installation and maintenance issues more efficiently and cost effectively, resulting in improved customer satisfaction.
"We are delighted to see the results of our strategic partnership with ASTRI in the launch of AR Remote Hand Service," said Esmond Li, CEO of CITIC Telecom CPC. "The partnership has provided us with a solution that significantly strengthens our managed services offerings, greatly enhances the customer experience and is revolutionising the industry's operations and maintenance capabilities."
He pointed out that the new remote maintenance service adopted in data centre scenarios, which leverages AR intelligent operations and maintenance technologies."
"This is only the first step and we will not stop here. Through collaborating more innovative thinking, we expect to enhance the service to cope with more scenarios and bring more value and better customer experience to enterprises," Li said.
This ability to work effectively from remote locations is also helping CITIC Telecom CPC's customers and staff stay safe in the midst of the COVID-19 pandemic. Remote support teams share the same view as on-site engineers which reduces the need for and expense of travel time. The AR Remote Hand provides field engineers with a heads-up display for remote visualisation in real time as they install, maintain or troubleshoot equipment, thus speeding up the whole process.
To ensure safe operations and maintain service infrastructure availability by the global remote service support teams, CITIC Telecom CPC is using DataHOUSE AR Remote Hand Service in its China Data Center operations to assure regional customers' business operations continuity.
Intelligent service provisioning without boundaries
Managing complex equipment and procedures for on-site service previously required significant time and effort,  which reduced efficiency of CITIC Telecom CPC's field engineers.
Now, the AR Remote Hand service 's wearable technology substantially reduces the time and cost for field service provisioning while boosting capabilities. Enterprise customers can solve problems faster while minimising downtime and expense.
The service has three key features:
1.) Intuitive AR-Guided Installation, Troubleshooting and Maintenance: With AR Remote Hand, field engineers recognise any device with a designated QR code and access real-time intelligence, graphics, and encrypted data from back-end systems streamed on-site. Field staff can access virtual step-by-step guides or even 3D manuals via AR glasses, without the need to interrupt work to check information on a laptop or in a manual.
2.) Historical Records Analysis: Using a pre-set routine (e.g. gestures), on-site engineers can review a device's historical record (e.g. customers' network traffic or cloud CPU history), to speed up data analysis and troubleshooting, while cutting downtime and cost.
3.) Seamless Communication and Collaboration with Back-end Support: Field engineers previously communicated with back-end support via email or phone, making it difficult to describe a troubleshooting situation. Removing distance and language barriers, back-end engineers now view real-time images streamed via AR glasses through an AR operations console, improving operational speed and quality. Its powerful video conferencing feature also offers engineers instant support and fosters off-site collaboration between global operations and maintenance teams. In addition, back-end engineers can give field engineers clear instructions via 3D AR labelling.
In developing the solution, ASTRI focused on developing the software platform and customisation, while CITIC Telecom CPC provided related information and opinions based on its experience with business cases in various scenarios and applications. Both companies hope to bring the benefits of their latest collaboration to a wide range of industries.
"Our strategic collaboration with CITIC Telecom CPC has demonstrated the success in leveraging next generation technology in real-life applications that benefit our people and society, in this case smart industrial applications and field service management solutions for Hong Kong enterprises," said Hugh Chow, CEO of ASTRI. "We are delighted that our applied research has proven effective in enhancing CITIC Telecom CPC's customer experience, improving operational efficiency and boosting business resilience, especially during the COVID-19 pandemic. ASTRI, as a bridge of innovation and technology, will continue to strive to create economic value and societal impact via technology transfer and commercialisation in building a smarter and safer Hong Kong."
AR-enabler acts as customers' remote hands
Equipped with the latest AR glasses development, AR Remote Hand serves as customers' remote hands. It not only shows the status of on-site equipment as customers watch in real time from offices or other locations, but also lets customers to provide live instructions to CITIC Telecom CPC's onsite engineers as they troubleshoot equipment issues without physically being in the data centre.
In the past, maintenance of IT equipment was done by onsite professionals who would need to investigate and analyse the issues on-site in order to identify the solutions.
However, the experience and capability of IT staff can vary. When an enterprise's IT and maintenance staff face situations they cannot fix or when its professional engineers are not able to go for onsite support, urgent maintenance can be delayed, compromising the enterprise's efficiency and putting it at risk.
In exceptional circumstances, such as the current pandemic, it's difficult for enterprises' IT staff to travel to data centres and manage their equipment.
"We are constantly innovating to improve the customer experience," said Daniel Kwong, chief information and innovation officer, CITIC Telecom CPC.  "We plan to extend the AR Remote Hand service for further customer use and will enlarge the list of equipment support. Adding AI applications for the AR glasses will be the next milestone as we work to deliver even more intelligent diagnoses. For example, when a field engineer sees the status of the target-fixing equipment through the AR glasses, they will be shown a number of possible causes for the problem, with each cause ranked with a percentage according to how likely it is to be the source of the problem."