Online furniture retailer Songmics this year expects to open a new 20,000sqm warehouse in Germany, which has an additional 900sqm office space, as it seeks to improve fulfilment services.
The new warehouse is designed to have a fully digitised operations with a number of automated guided vehicles and connected devices  in use at the premises, which will require robust and reliable Wi-Fi connection to function perfectly.
The company is one of the top sellers on Amazon in Germany, delivering storage organisers, furniture, and other household essentials on Amazon and is now available in countries like Germany, the United States, France, Spain, Italy, the United Kingdom, Canada, and Japan.
For this purpose, Shenzhen-based Huawei has been tapped to provide its AirEngine Wi-Fi 6 Network Solution to ensure high-precision location-based services (LBS) can run inside the new warehouse. The solution uses RFID, Bluetooth, ZigBee, and other technologies to easily expand Internet of Things (IoT) applications and further enhance LBS, such as asset management.
Huawei solution highlights
The solution deployed at Songmics' new warehouse features Huawei Wi-Fi 6 AP7060DN products, multigigabit PoE++ switches, and agile switches integrated with wireless Access Controller (AC) functions, providing several benefits.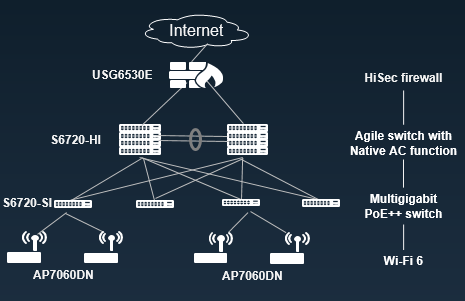 The AirEngine Wi-Fi 6 offers up to 5.95 Gbit/s of bandwidth, delivering four times more bandwidth compared to Wi-Fi 5, as well as supporting four times the concurrent users.
Inside, Smart Antenna technology automatically optimises signal quality by up to 100% and reduces interference by up to 15 dB, ensuring that mobile terminals in the warehouse work well, corner-to-corner.
Meanwhile, AirEngine's Dynamic Turbo technology provides intelligent application acceleration and reduces latency to just 10 ms — just half the latency defined for standard Wi-Fi 6 — ensuring the smooth running of production in the warehouse.
Lossless roaming technology provides stable roaming with zero packet loss, an essential requirement for the effective deployment of AGVs in the warehouse.
Finally, Huawei agile switches offer built-in wireless AC functions, simplifying management and saving costs. To meet the ultra-broadband needs in an all-wireless area, Huawei's multigigabit switches come with auto-adaptive GE/2.5 GE/5 GE/10 GE interfaces and enable POE++ up to 200 metres.
Interruption-free operations
With the high-signal coverage of Huawei's AirEngine Wi-Fi 6 Network Solution, Songmics expects zero interruption, particularly when scanners are running at its new  warehouse.
Furthermore, the solution's lossless roaming and low latency ensure a consistent user experience and the smooth, stable transmission of production data. This decreases the packet loss ratio of equipment such as scanners to zero.
A major benefit for Songmics is that the infrastructure is effectively future-proofed, making further innovations possible, keeping investment costs low, and providing wider options for asset management. Songmics saves over 10% in costs simply by not needing to buy new devices annually.