Airspeeder, the world's first electric flying car racing series, has entered a landmark technical and strategic partnership with Singapore-based cybersecurity firm Acronis.
The racing series, created by performance electric flying car manufacturer Alauda, will receive technical and commercial support from Acronis. The significance of this partnership will be reflected in the placement of the Acronis brand in a prominent position on Airspeeder's MK4 racing craft.
"We are creating an aerial motorsport driven by innovation. Backing from Acronis, a business with an extraordinary culture of technological success in Formula One and Formula E represents significant affirmation of our vision to accelerate the next great mobility revolution through sporting competition," said Matt Pearson, Founder, Alauda and Airspeeder
The first Airspeeder GPs planned for 2021. It is founded on the belief that technical development of the flying car mobility revolution will be accelerated in the heat of competition.  It will benefit the wider eVTOL (electrical vertical take-off and landing) sector, an industry backed by giants including Uber, Daimler, Toyota, Hyundai and Airbus.
Widely dubbed as 'flying electric taxis' and considered the next great mobility revolution, eVTOL promises to liberate cities and cut journey times with a sustainable flying transport solution. The sector is predicted by Morgan Stanley to be worth US$1.5 trillion dollars by 2040.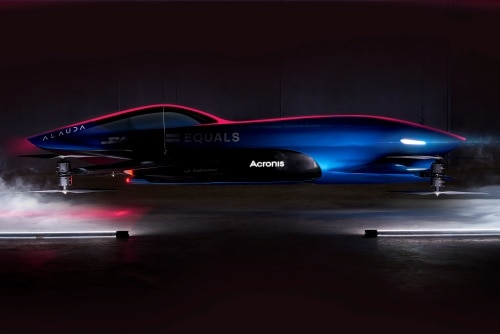 Ensuring data security during the Airspeeder race
With the newly inked partnership, Acronis' cyber protection solutions will ensure the data security for the revolutionary LiDAR and Machine Vision technology that will deliver close but safe racing through the creation of virtual force-fields around each racing craft, named 'Speeders'. Part of this technology will be delivered by Teknov8, a global provider of cyber security solution that will support Acronis' partnership with Airspeeder as an Official #CyberFit Delivery Partner.
"Acronis' place at the leading edge of innovation in data management perfectly aligns with Alauda and Airspeeder's vision to accelerate a mobility revolution through close sporting competition," said Jan-Jaap Jager, board advisor and senior vice president at Acronis.
He added: "Our proven, integrated approach to providing easy, efficient, reliable and secure cyber protection for all data, applications and systems, will help Airspeeder to enhance their performance on the air track and in the back office. We look forward to delivering on the promise of a true next generation technical and sporting proposition."
Acronis' secure data analysis solutions currently enhance the performance of some of the most celebrated sporting entities in the world including major names in F1 and English Premier League football. Acronis' strategic and commercial support represents further affirmation of Airspeeder and Alauda's vision to accelerate the next great mobility revolution through sporting competition. This significant partnership follows the confirmation of major institutional investment in the sport and follows existing support from logistics giant DHL and global money management firm Equals.
Acronis and Teknov8's commercial, technical and strategic support will therefore hasten the arrival of the eVTOL (electrical vertical take-off and landing) vehicle that promises to provide a long-term clean air solution to city congestion through a zero-emissions aerial transport solution.
Airspeeder is described by global commentators as the 'Formula One of the skies', Acronis' track record in motorsport makes them the perfect technical and strategic partner. The firm's technical team will manage the streams of live data that will underpin a sport that promises to be the most exciting global sporting and broadcast entity on the planet.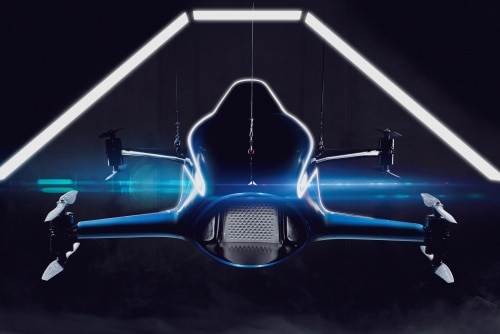 Building a new sports
Alauda expects that elite pilots culled from the world of aviation, motorsports and eSports will participate in Airspeeder, navigating through navigate electrically governed courses above some of the most visually arresting locations in the world.
Electric racing multicopters created by Alauda will fly at speeds of up to 130km/h. Airspeeder GP seasons will be contested by teams who will purchase the original craft and equipment from Alauda, but will be given freedom to set race strategy and recruit pilots from a pool of elite pilot academy graduates. This will create a technologically even playing field, encouraging greater control for teams to dictate strategy. This approach has been compared to the highly successful Formula E racing series.
Success for teams competing in the Airspeeder series is defined by the skill of individual pilots and the teams' ability to maximise performance from a truly revolutionary technical platform. Key to this will be the collection and interpretation of data. This will be underpinned by Acronis and its world-leading solutions which will ensure the secure and seamless management of data. Key indicators from battery peak performance to pilot biometrics will be available to teams as they plot strategy to gain competitive advantage.
Acronis' track record in motorsport makes the company  the ideal technical and strategic partner to an event described as "Formula One of the skies". The firm's technical team will manage the streams of live data that will underpin a sport that promises to be the most exciting global sporting and broadcast entity on the planet.
Acronis' data solutions currently ensure the security of the terabytes of data derived from running Formula One cars during testing and racing scenarios. This data is essential to sports like F1 and Airspeeder that require telemetry data to analyse performance and set strategy.
Airspeeder's team and pilots will benefit from real-time data including analysis of battery and key systems performance. From this information, engineers will be able to define strategy in real time to find competitive advantage in a sport where every team starts with the same technical platform. This will make for the close and equitable racing motorsports fans crave.
Data-driven sporting event
Airspeeder's will globally stream races and interact with the sport's fan community across multiple devices and channels. Central to this is equipping Airspeeder with the inherent flexibility to adapt to rapidly shifting requirements of audiences in the way they interact with brands. Acronis' capability to securely manage global fan and partner data empowers Airspeeder to deliver a next generation multimedia experience.
As a progressive, technologically led sport, Airspeeder is driven by the application of big data. Acronis and Teknov8 will ensure an Airspeeder race or flight will never be compromised and that the terabytes of data shared between Speeders and the technical teams supporting them will remain entirely secure.
Airspeeder will be experienced through global multi-channel streaming. Spectators at live events will be limited to VIPs exclusively invited to experience and amplify the action from luxury pavilions. As they compete, Speeders will utilise cutting-edge LiDAR and Machine Vision technology to ensure close but safe racing, with defined and digitally governed no-fly areas surrounding spectators and officials.