Three quarters or 75% of workers in Singapore believe that robots are an ideal complement to the janitorial staff in ensuring the cleanliness of their workspace, according to the recent Workplace Smart Cleanliness Study.
The study also showed that indoor air quality (70%) ,cleaning frequency (65%) and virus transmission risks (61%) are key concerns among Singapore residents who were polled.
"This sheds some light on the concern levels of Singaporean workers as many are now heading back to the office. With 64% indicating they're somewhat or very concerned about contracting Covid-19 at work, office cleanliness and safety are top of mind," said Stephen Tracy, chief operating officer at consumer research firm Milieu Insight.
Milieu Insight conducted the study in collaboration with SoftBank Robotics and Infogrid, to understand employee sentiments about their office cleanliness since the pandemic
Tracy added: "There's an enormous opportunity in applying data and robotics to address these concerns. And the study shows that support is high for integrating things like more data and transparency around office cleaning practices, as well as the integration of robotics, including robo-vacuums.''
Indeed, nearly 75% of those surveyed want to see greater transparency on cleanliness statistics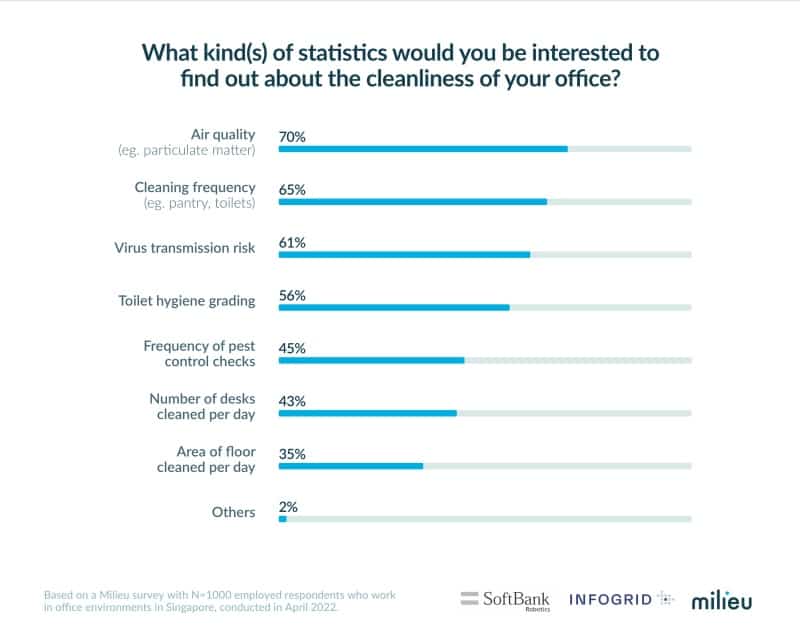 "This survey conducted in collaboration with Milieu Insight is extremely insightful for employers and building owners to understand the importance of using data to reassure our Singapore workforce that there are specific benchmarks in place to ensure that their office is safe and clean," said Kenichi Yoshida, chief business officer, SoftBank Robotics Group. SoftBank Robotics is the company behind the autonomous AI-driven robot called Whiz.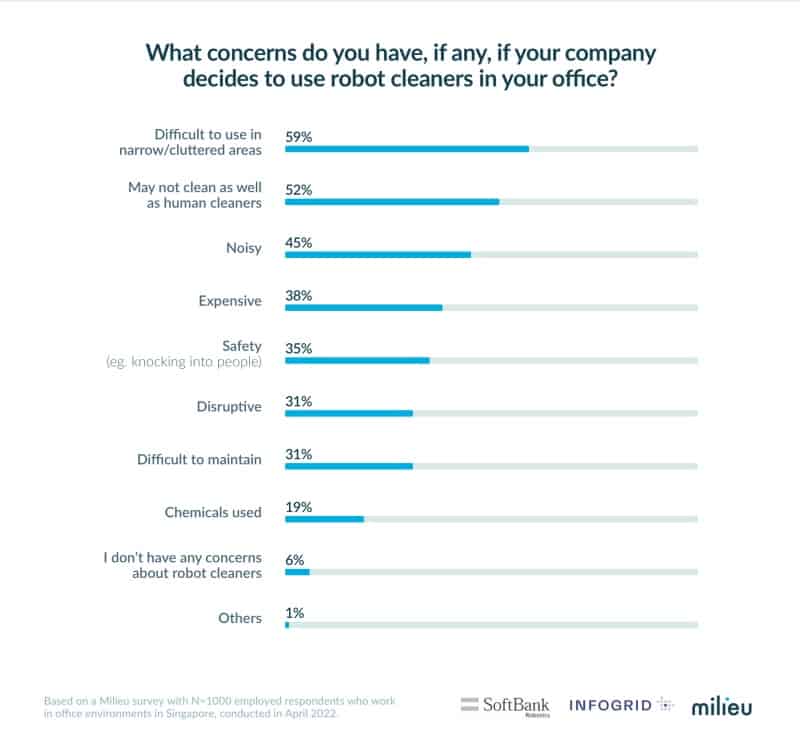 SoftBank Robotics' Cobots (collaborative robots) are specifically designed with the principles of human-robot interaction and to support an organization's current staff, not replace them. Deploying autonomous cleaning cobots can help impact the bottom-line for organisations seeking efficient solutions that reduce repetitive or strenuous tasks for the cleaning staff, allowing them to focus on nuanced, uniquely human needs and improving overall cleaning efficacy.
Using cobotics to improve employee experience
Meanwhile, SoftBank Robotics recently partnered with Infogrid to integrate the latter's AI-powered building management platform into the Whiz cleaning robot. Infogrid's multi-sensor technology and analytical dashboard will help companies deliver a better working environment.
Yoshida added: "Cobotics is the collaboration between workers and robots, or other automation tools to improve employee experience. Whiz's smart AI cleaning with real-time data on indoor air quality using Infogrid sensors and its analytical dashboard can deliver peace of mind to both employers and employees concerned with the risks of transmission of airborne viruses at the office."
"Our Smart Building Platform when deployed with Whiz provides the reassurance that businesses and their employees need as they return to the office," said Ross Sheil, senior vice president for global revenue, Infogrid. "By being able to monitor and report on indoor air quality in real time, businesses can take immediate action to keep their employees safe and also improve productivity and mental wellbeing. Our partnership with SoftBank Robotics allows us to ensure that building managers are able to make the right decisions at the right time based on real data."
Meanwhile, SoftBank Robotics has introduced GERMii UV-C for Whiz, a disinfection and vacuum cleaning 2-in-1 function for Whiz that is able to eliminate surface pathogens in Singapore. Its features include obstacle detection, fall prevention (LIDAR sensor, 3D camera), impact detection (sensor-installed bumper), anomaly detection (Cliff sensors, wheel contact sensors, and emergency brake function). Whiz has its own proprietary BrainOS Navigation Software that helps determine the best cleaning route based on its real-time surrounding environment.
By deploying the newest Whiz products with Infogrid's smart technology, organisations can monitor their office indoor air quality, occupancy levels, building usage, humidity levels and other AI-powered insights to take action to improve the workplace environment.