New report from IoT Analytics finds $174M in Industrial & IoT Blockchain spending today and predicts the market will expand to $573M by 2023 – driven by encouraging pilot project results and ongoing corporate investments.
The IoT Analytics report titled "Industrial & IoT Blockchain Market 2019-2023" revealed over 15 blockchain-based use cases for Industrial & IoT settings outside of banking, finance, and insurance, including food origin, safety, quality tracking, microgrid, and energy trading. Supply Chain was identified as the #1 application area for blockchain from an Industrial & IoT project standpoint.
RELATED:  How to choose the right industrial IoT platform
Spending for Industrial & IoT Blockchain reached $174M in 2018, much of which was dedicated to early stage pilot projects. The report outlines a scenario-based approach to estimate the size of the market. The upper limit scenario denotes the best-case scenario for the market while the lower limit refers to the worst-case scenario. The IoT Analytics consensus case is closer to the lower limit scenario and forecasts spending to be just under $573M by 2023.
Figure 1: Comparison of global IoT-related blockchain project spending scenarios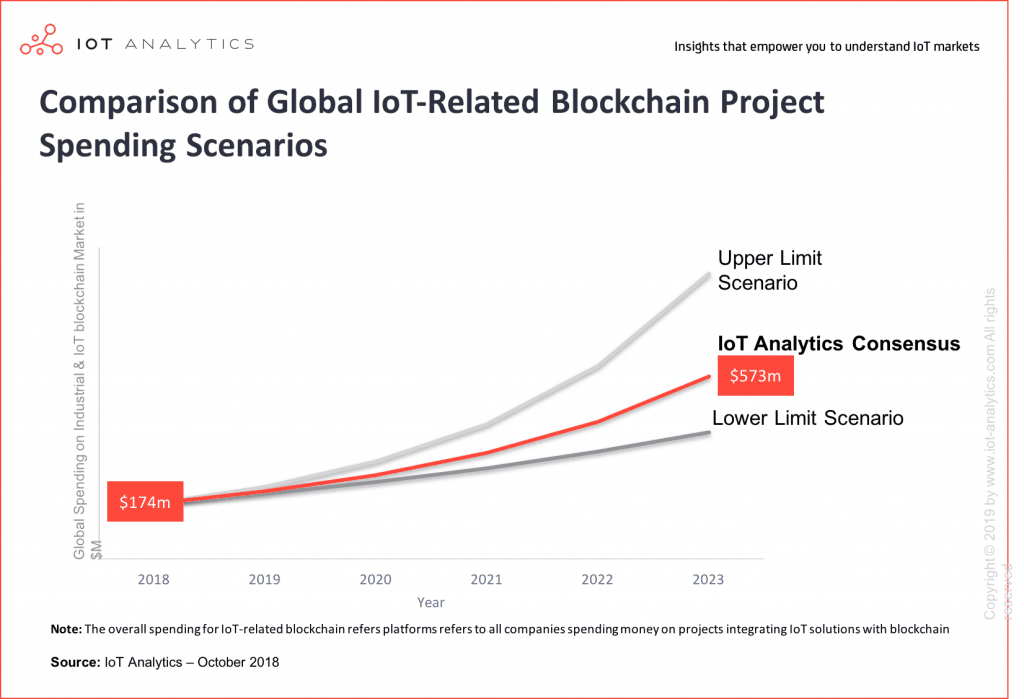 Source: IoT Analytics 2019
Commenting on the findings, IoT Analytics Managing Director Knud Lasse Lueth said: "Blockchain sentiment has turned extremely negative in the last 6-9 months. This is largely due to the fall of cryptocurrencies and the inflated expectations and promises that turned out to be mostly hot air."
He cautioned that beyond the hype, blockchain remains a viable technology and several industrial companies continue to invest and explore.
"Make no mistake – at an estimated $147M, this is not a big market today and based on our observations, there won't be an explosion anytime soon. We expect a clean-up of the landscape and then there will be solid growth somewhere between the upper and lower scenarios that we defined as part of the analysis. There clearly is value for a number of industrial and IoT-related use cases as the technology evolves. One should note that cryptocurrencies will play a minor role in these settings," concluded Lueth.