Supervisory Control and Data Acquisition (SCADA) and Human Machine Interface (HMI) software are at the core of modern manufacturing operations. ABI Research forecasts investment in SCADA/HMI software will reach US$11.3 billion in 2033 at a Compound Annual Growth Rate (CAGR) of 6.2%, up from US$6.17 billion in 2023, as manufacturers face ongoing margin pressures and seek to drive digital transformation.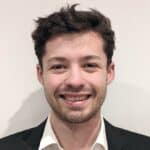 "The top spending manufacturing markets on SCADA/HMI software are computer and electronic manufacturing, machinery manufacturing, and other transport manufacturing (which includes aerospace, ship, and railroad manufacturing)," said James Prestwood, industrial and manufacturing technologies research analyst at ABI Research.
SCADA/HMI competitive landscape
The SCADA/HMI software market is not incredibly expansive, with prominent vendors holding a significant proportion of the market share. While there are pure-play software vendors, they have less market impact than those within the MES market.
The most significant market shares are held by Emerson, Siemens, and Mitsubishi Electric, with 17.3%, 12.1%, and 11.6%, respectively. Other notable players within the market are Rockwell Automation, Schneider Electric, and Honeywell.
Modularity and integration are the two main design elements being championed by technology vendors for their SCADA/HMI offerings. Software is designed with open standards that allow for easy operability with the manufacturer's pre-existing production processes.
"These vendors are designing their solutions to meet both modular and holistic frameworks, designing end-to-end portfolios that can be deployed holistically or used to fill gaps in pre-existing systems. Siemens' Xcelerator, GE Digital's Proficy, and Mitsubishi Electronics' ICONICS suite are primary examples," concluded Prestwood.